How Storage Units Benefit Event Planners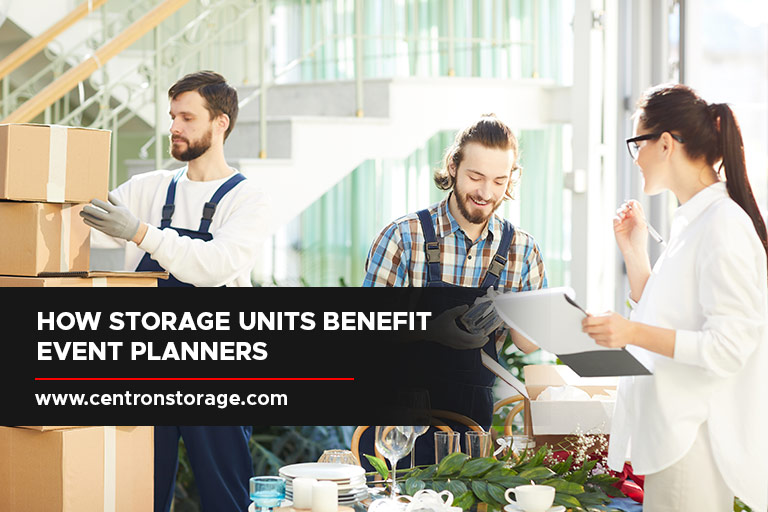 The myriad of events that event planners handle every month calls for a staggering number of items, which begs the question, "How do event planners stay organized?"
One of the most crucial aspects of your job as an event planner is keeping track of your inventory. It can take a significant amount of effort to maintain a record of your contacts, receipts, decorations, and supplies. If you work from home as many event planners do, staying organized becomes even more important. Over time, amassing too many things will lead to clutter, making it difficult to find the right kinds of supplies for a specific occasion.
Whether you need a place to store decorations or a secure location for paperwork and documents, a storage unit is a helpful way to get your stuff organized and ready no matter how many parties you're organizing at a given time.
Benefits of Storage Units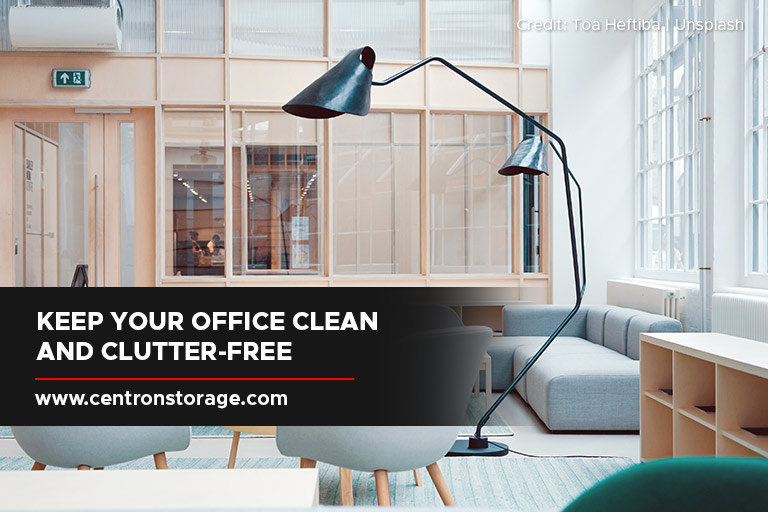 Space — and tons of it — is the one thing that every event planner wants. Here's why a storage unit should be part of every event planning checklist:
A storage unit of any size opens up the space that would otherwise be occupied by valuable items in your garage or cabinets. The benefits go beyond simply remaining organized. You and your staff are at risk in a cluttered office. You've probably done your fair share of racing around to fulfil customer demands given the frenetic nature of the event industry. Every prop scattered around the office poses a tripping risk. Renting a self-storage unit will help you clear your office and makes your office a secure place to work.
An event planner or organizer needs audio-visual (AV) equipment. Bright lights, image projectors, and a powerful music system may all transform a lacklustre gathering into one that generates buzz even after it has ended. However, organizers know that it can be challenging to safely store these devices. Moisture, no matter how minimal, can damage electronics. Since AV equipment contains metallic components, rusting is a big issue.
Even if you don't have AV equipment, it is still a good idea to store your supplies in a cool, dry area to avoid mould growth. In this case, temperature-controlled storage facilities are important since they give event organizers a secure location in which to keep their goods.
Renting a storage unit in a central location allows you to stage any event anywhere without the need to haul materials too far. You can take your time when packing inventory sets, chairs, tables, decorations, and everything else and then transport and store the entire crate in a storage facility. When the time comes, sometimes, all you need to do is pick up your items from the unit. 
Safeguards documents and paperwork
Paperwork, dated customer files, and bills will eventually accumulate. Some organizers even maintain a complete binder for each event they plan. It becomes unnecessary to preserve these records at your home after a certain point. When planning to store crucial documents, think about scanning them as well to establish a digital backup. Paper documents, photos, and other crucial information can be kept in a climate-controlled environment to preserve their condition.
Those who organize events often have a wide inventory to satisfy all of their clients' needs. You may be setting up the décor for a business dinner one moment and planning a wedding the next. These events each call for different supplies. Unfortunately, event planners can only stock as many supplies as their space can accommodate. To accommodate the dynamic timetable of event management, storage facilities allow organizers to grow and access their inventories easily. 
Manages seasonal decorations
You'll need flowers and heart decorations for Valentine's Day — but what happens to these decorations after the event? They will most likely take up a sizable portion of your office. This can make working and moving around the office difficult for you and your staff. Expanding your office space solely to accommodate your seasonal props may not be a financially sound decision. On the other hand, event organizers can easily cycle the inventory they need at any given time by renting a self-storage unit. You can then store them till the next year.
Tips for Storing Event Materials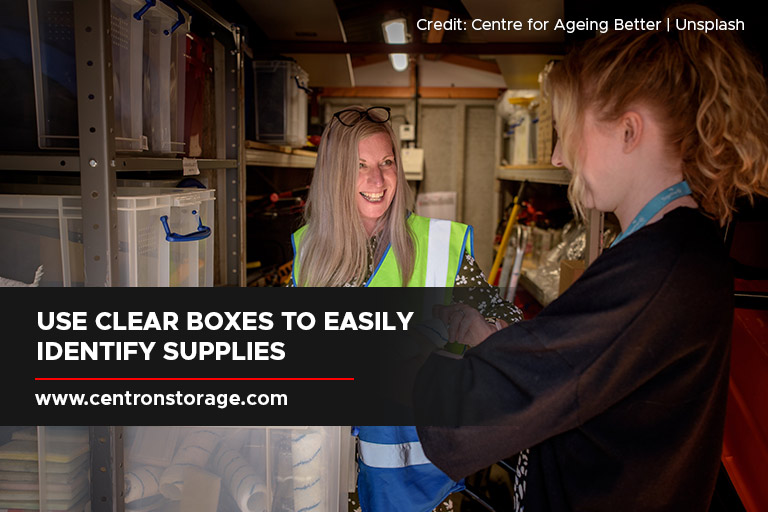 Keep an eye on your storage space to keep things organized between events.
Here are some easy tips and event planning storage ideas to help you manage your inventory:
You probably have obsolete marketing materials in storage that you no longer need, or perhaps, they are intended for a particular occasion or season. You should carefully evaluate what you'll be using going forward and make sure that the tools and props you use more often are carefully preserved.
Opt for a climate-controlled storage unit
You probably have a ton of finance records, important planning documents, and other material that has to be stored. If you want to keep everything safe but feel as if they're taking up too much space at your headquarters, think about renting a climate-controlled storage unit. These storage facilities are an excellent choice because they protect your files and papers from humidity and extreme temperatures.
Many climate-controlled units include humidifiers and dehumidifiers as moisture management choices. They also help to maintain unit temperatures and protect your items from wear and tear.
Clear bins come to the rescue every time. Imagine that you only remembered you needed additional utensils for a dinner function at the last minute. They will be visible through the clear bins as soon as you enter your unit. You can simply take them and leave, saving you time and effort from conducting a thorough search of the unit.
You risk losing your items the minute you stop labelling. Keep the labels clear and distinguishable. Use labels like "red lanyards with white lettering" instead of simply "lanyards." The rule of thumb is if you can't see it, neither can anyone else, so make the labels big and visible. Use large print, vivid colours, and colour coding.
To ensure that events go off without a hitch, create an Excel file and distribute it to your staff. In this manner, you can create a digital sign-out sheet and manage all documents. Make a section for the last time items were checked, and monitor the items frequently. There is nothing worse than rushing to your storage unit, believing that the décor is there only to discover that it is missing.
Storage containers are the go-to solution for keeping businesses of all shapes and sizes tidy and organized. If you're party planning with an office that is already overflowing with event supplies, Centron Self-Storage, a storage rental in North York, is happy to serve you. Call us today at (647) 557-7378 to reserve your unit.