Useful Tips for Storing Your Holiday Decorations
The Holidays have ended. For many, this could mean taking down their decorations. While festive decorations are a great joy during the holidays, they can be a pain to pack up and store.
Holiday decorations can quickly fill up your home and eat up some precious storage space. Before your Christmas ornaments clutter up your garage, basement, or attic, you need a proper storage solution now. This year, why not try renting out a self-storage unit? After all, you only use these goods once a year.
When keeping decorations, take extra care to ensure that they remain in good shape. Follow these tips on organizing and storing your holiday decorations.
Take Photographs of Your Décor
Has there ever been a time when you couldn't remember where you placed your items, which box you put them into, or which décor you used as the dining table centrepiece? Holiday decorations come in many colours, shapes, sizes, and materials. It's easy to misplace and forget them, especially when you're storing them away.
To save you from the hassle, make an inventory of your decorations. Better yet, take pictures of the decorations before putting them away for storage. Grab your mobile phone and start photographing. Take pictures of which containers you placed them. That way, all you have to do is scroll through your albums to know where exactly to get them.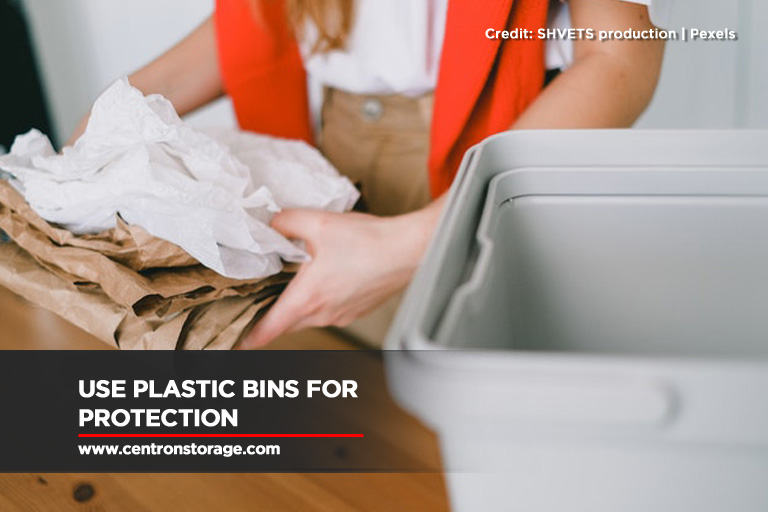 Many decorations are extremely fragile. It will defeat the purpose of safekeeping if they break while in storage. For your holiday decor storage containers, invest in some robust plastic containers, rather than in battered cardboard boxes year after year. These plastic bins can be stacked without fear of crushing objects in the bottom bin while in storage. You can also colour code them so you can tell which bins in your storage facility hold seasonal decorations.
In case plastic containers aren't available, it's a good idea to invest in cushioning supplies, like bubble wrap or packing peanuts, to avoid breakage while packing and storing your Christmas gifts. You can also utilize old clothing and blankets as DIY cushioning alternatives for your holiday decorations.
Keep Your Wreaths and Garlands in Good Shape
There are several options for wreath and garland storage, just like there are for all of your other Christmas decorations. Place Christmas wreaths and garlands in their original boxes and store them horizontally on a shelf. If you no longer have their original boxes, look for solid containers that will protect any ornamental bows and ornaments while preserving the shape of these objects. They can also be hung on hooks on a pegboard in your storage unit. Cover them with a lightweight dry cleaning bag for added protection. Do not stack wreath bags on top of one another since this may cause them to become deformed.
Maintain Your Christmas Tree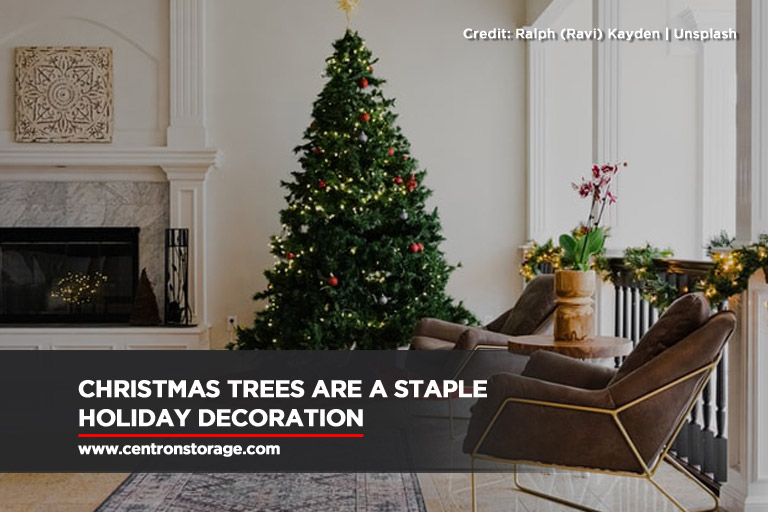 The Christmas tree is probably the most important holiday decoration of all, so proper attention must be given to it. Despite the fact that fake trees are fairly resilient, storing your tree in its original box is not a good idea. The tree will not look as attractive if it has to be squeezed into the box and reshaped every year. Besides, the box will deteriorate with each passing year, making it susceptible to insect infestation.
There are a variety of tree storage container solutions available to safeguard and maintain your tree. If you can dismantle your tree, then do so accordingly and place them inside plastic containers. Alternatively, keep your tree in perfect condition by storing it in climate-controlled storage. This is especially critical if you have a frosted, flocked, or white tree, as they don't do well in cold weather.
Take Down Any Large Decorations
One of the many head-scratching moments of storing holiday decorations is figuring out how to store large outdoor Christmas decorations. While it may be simpler to take the ornaments out and put them upright in a storage container, you risk damaging your holiday decorations. Instead, remove any loose elements and disassemble major embellishments instead. Place each item in a box. To avoid damage, wrap fragile things and remove glass elements from the base of the displays. When stacking up, place the largest or heaviest item at the bottom and the lightest on top to avoid squashing everything in between. It's preferable to store your Christmas decorations in sections rather than as a whole.
Take Care of Christmas Ornaments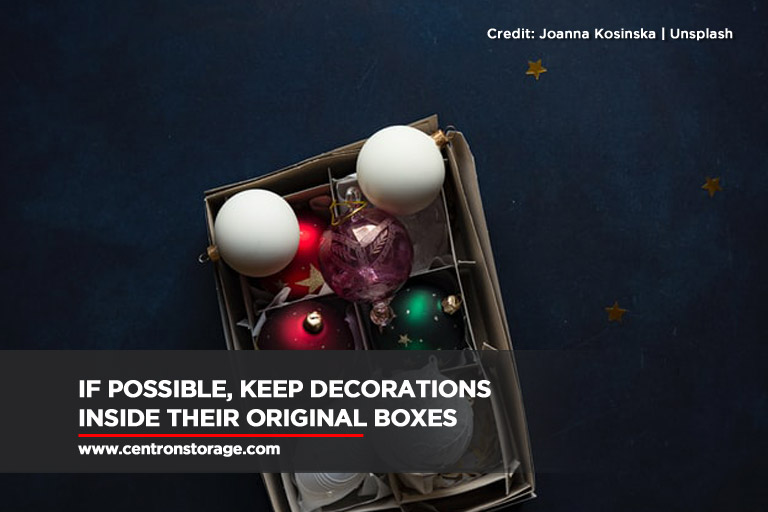 Most ornaments are invaluable treasures because they were either handmade by family members or were passed down as heirlooms, so you need to be creative with your holiday decoration storage ideas. You may buy specially constructed boxes to hold decorations at your local home craft store. You can also get creative and employ DIY ways to store smaller ornaments, such as utilising plastic cups enclosed inside a box or a cardboard egg crate. Keep the boxes for larger or unusual shaped ornaments if at all possible. If you don't have any boxes, wrap the ornaments in tissue paper gently.
Keep Your Christmas Linens Fresh
Before storing your Christmas table linens, bed linens, and towels, make sure they are clean. Over time, stains can oxidize and become tough to remove. Tissue, newsprint, and cardboard should not be used to wrap linens since these may also cause the fabric to discolour, or worse, the ink can leave marks and stains. Fabric can also be harmed by plastic and hangars. These goods can be stored on an extra shelf in your linen closet if you have the space. A luggage that you no longer use in your storage container is a better solution. Remember to keep these pieces in a climate-controlled location to preserve their beauty and prevent additional harm.
Be Careful With the Candles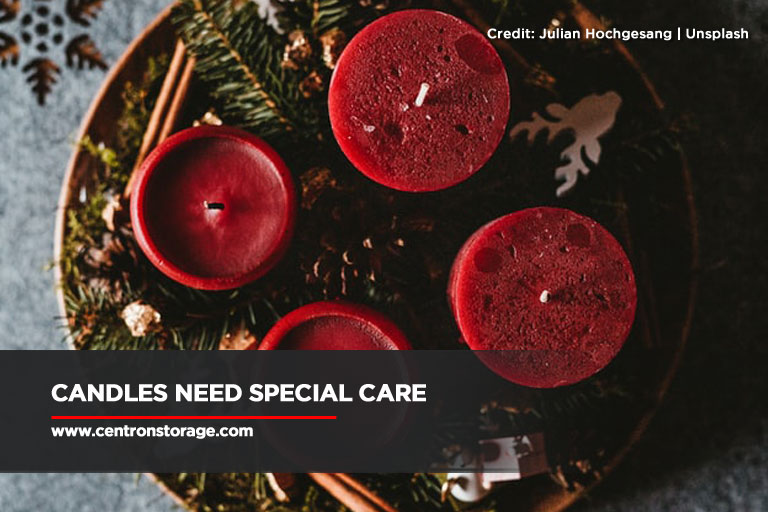 To avoid scratching and discolouration, wrap candles in old socks or cellophane.
Plastic wrap or wax paper should not be used since they can stick to your candles. Keep them flat, out of direct sunlight, and in a relatively cool location unless you want melted, deformed globs of wax, of course. After you've finished wrapping them, keep them in a box or crate, or even in your ornament storage boxes, in a climate-controlled section of your home or storage facility.
Untangle Your Christmas Lights
String lights are by far the most difficult Christmas decorations to pack. These popular decor are both fragile and prone to tangling. There is, however, a simple approach you may use to make string light packing (or any wired electronics, for that matter) easier to store — untangle and wrap. Carefully removing lights from your structure to minimize knotting. Next, grab a piece of cardboard and loop your lights around it. Don't forget to place them in a cool and dry place.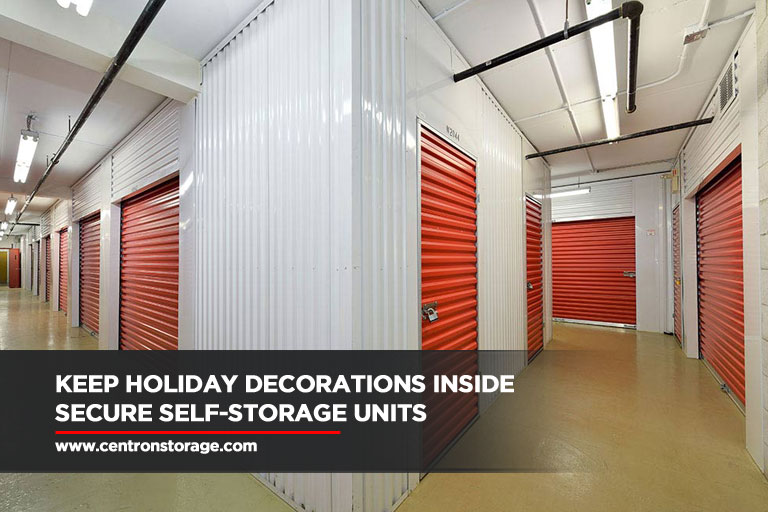 Many homeowners like decking their halls with festive lights, ornaments, statuary, and other decorations during the holidays, yet find them a hassle to store at the end of the season. These tips on Christmas ornament storage will help you save time and effort.
If you need a place to store your valuable items, turn to Centron Self Storage. Our storage units in North York are ready to keep your decorations safe and good as new. Call us at (647) 557-7378 to reserve a unit.