Helpful Tips for Storing Winter Clothes Off-Season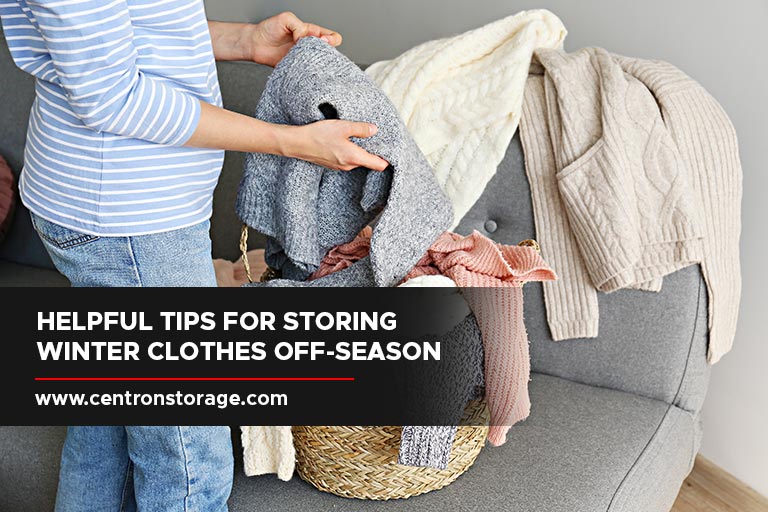 Spring is just around the corner, so it is time to put away your thick and heavy winter clothes. Shorts, t-shirts, and bathing suits should take the place of bulky winter coats, sweaters, and scarves now that spring and summer are fast approaching. Switching out your wardrobe and storing out-of-season stuff can be difficult if you don't have a large walk-in closet. While it may be tempting to throw every wool coat and winter sweater into a large plastic bucket and keep it in the attic for the next 6 months, making the effort to store your winter apparel properly will pay off by extending the life of your clothing.
But what is the best way to store your winter clothes? How do you store winter clothes in summer? Winter clothing storage requires some preparation. Follow these winter clothing storage ideas to make sure your clothes look and smell nice the next winter.
Winter clothing needs washing, even if they don't seem dirty. Before washing anything, check the labels so you know how the material should be handled; wash what you can at home, and send the remainder to the dry cleaners. Many winter clothing items, including cashmere sweaters, should be dry cleaned, while others require hand washing. Remember that unwashed clothes can accumulate body oils while they are stored, which can attract moths and leave behind an odour that is nearly impossible to get rid of months later.
The truth is that during the hot summer months when temperatures are quite high, there is a potential that your garments, regardless of where you store them, will begin to develop an awful musty smell. When you need your clothing again, it will smell fresh thanks to the deodorizers you added to the boxes. Each package or container ought to have a few drops of lavender essential oil in it. In the absence of essential oils, a few dryer sheets ought to work.
Be smart about what to store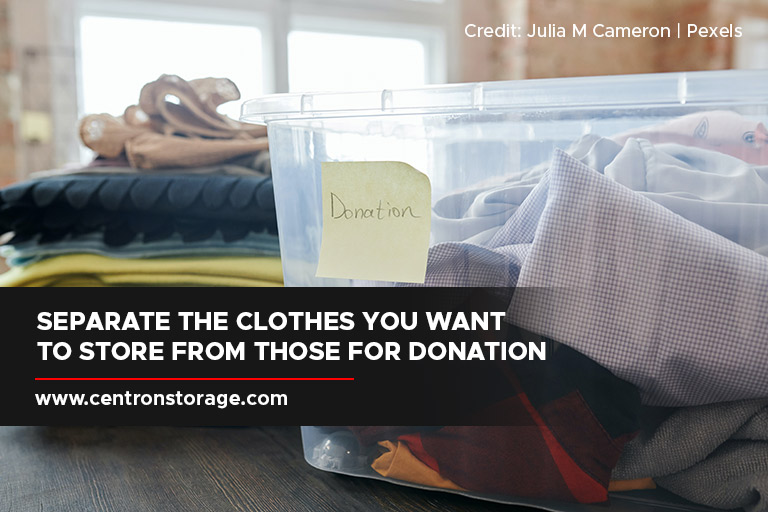 Start going through your closet and separate the goods that can no longer be repaired, are worn out, damaged, or no longer fit, or the ones that have been outgrown.
Get rid of everything you haven't worn in years that you purchased at discount. You can also add any clothing items to your "donate" pile that just don't fit your style any longer. When organizing your closet, follow the "one-year rule," which states that you should get rid of anything you haven't worn in the last 12 months.
You cannot simply store clothing wherever in your house. The ideal setting for storing apparel that will be hidden away for several months is one that is dry, climate-controlled, and well-ventilated. Additionally, it's important to keep stored apparel from heat sources and direct sunshine. If you don't have enough space at home, renting a climate-controlled storage unit is a good option.
The basement makes a decent place to store winter clothing. Maintain a humidity of between 30 and 50%. You can run a dehumidifier for added peace of mind.
Spend some time patching and repairing the items that require it. Some winter gear may turn out to be beyond repair and not worth the storage space. Making that choice now is preferable to waiting until the fall. Small holes, sweater pulls, and busted zippers should be fixable if you can sew reasonably well. If not, consider hiring a seamstress or tailor.
When planning your storage, always remember to choose the best containers for storing your winter clothes. In contrast to cardboard boxes, clear plastic storage containers offer an airtight seal that keeps out dust and moisture. Additionally, plastic storage bins are more durable and can be stacked safely than cardboard boxes, so you should use them to store clothing that won't be worn for a long.
Make sure to remove dry-cleaned items from their plastic bags.
Liquid chemicals are used throughout the dry-cleaning procedure. Your clothing's fibres can turn yellow, and even worse, mould and mildew can grow if it hasn't been given enough time to dry completely and is still wrapped in plastic, which traps any moisture.
Purchase some sturdy garment bags to store your winter jackets, suits, and other rarely worn stuff for the long term.
Avoid vacuum-sealing winter clothes
You can conserve storage space by vacuum-sealing seasonal apparel using a hand pump device or an attachment to your vacuum. Given that your winter clothing is heavier and requires more storage space, it can seem more practical to store winter clothes in vacuum bags.
However, vacuum sealing isn't always safe for garments. Vacuum sealing is not recommended for leather goods, down jackets, or clothes made of natural fibres like wool and cashmere.
This prevents the fabrics from breathing and may lead to excessive compression of the natural fibres. The clothing starts to lose its natural shape as a result. These products normally regain their former shape after being released from the vacuum seal, but sometimes they won't.
Hanging items that should be folded instead is another storage error that can cause clothing damage. When kept in a drawer, wardrobe, or storage container, thick winter knits like sweaters will keep their shape better. Otherwise, hanging them on a wire hanger will inevitably stretch out and possibly even become damaged.
You can relax and look forward to the sun-filled adventures of the upcoming season once your winter clothing has been cleaned and stored appropriately. Use these helpful tips when you start storing your winter clothes away. If you don't want the inconvenience of finding storage near you, Centron Self-Storage is the perfect solution for you. They offer self-storage in North York with a variety of sizes and prices for you to choose from. Call now at (647) 557-7378!