Long-Term Storage Tips for Clothing
When placing anything in long-term storage, it's wise to ensure your items will not suffer any damage. Clothes, especially those made of natural fibres, are especially vulnerable.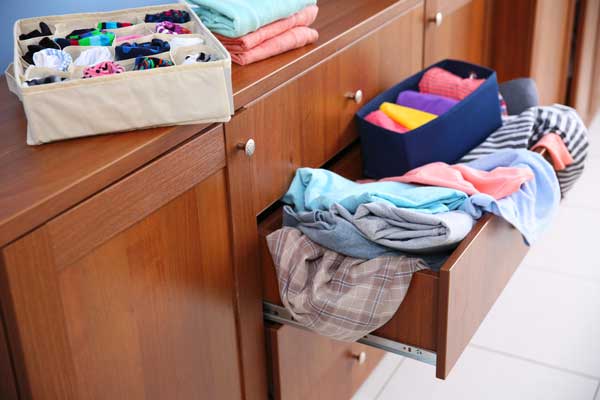 Protect your clothes with the following tips:
Wash or launder before storage.
If you store unwashed clothes, chemicals (like those in perfumes and deodorants) will stain the fabric over time. Existing stains will settle and become more difficult to remove. Dirty clothes can also attract mould, mildew, and pests. Ensure a longer shelf life for your clothes by washing or dry cleaning them before storage.
Do not vacuum-seal clothing.
Although it's true that vacuum-sealing can save space and leave more room for other items, it comes with a setback — it can damage your clothes. Vacuum sealing clothes compresses the fibres, causing them to lose shape over time. Clothes can regain their shape, but the time needed for the fibres to decompress may be equivalent to the time they spent in storage. For short-term storage, however, vacuum-sealing is not a problem.
Store clothes in airtight plastic containers.
Choose plastic containers with airtight lids. Give them a thorough cleaning and make sure they are dry. If you are storing a special or expensive item, like a wedding dress, place it in an acid-free box surrounded by a plastic container.
Avoid cardboard boxes or plastic bags at all cost. They do not provide the protection your clothes need. Pests are especially attracted to cardboard, and will eat away at boxes (and your clothes). Plastic bags trap moisture, making them the perfect breeding ground for mould and mildew.
Use moth balls or lavender sachets.
Moth balls and lavender can give your clothes added protection against mould, mildew, and some pests. Moth balls are effective but contain harsh chemicals toxic to humans. They can leave clothes with a residue and unpleasant odour that can be difficult to remove.
A more environmentally friendly alternative is lavender. It is an effective pest deterrent and (unlike moth balls) has a pleasant smell. You can wear your clothes immediately after you take them out of storage. Place the lavender in sachets so it does not leave stains. Also, since their fragrance fades over time, you may need to replace the sachets every few months.
If you're looking for storage space in North York, Centron Self Storage can help. Our team will assist you with choosing the right unit size for your needs and finding reliable moving services. Call us at (647) 749-1398.