Vital Steps To Keep Your Computer Safe In Storage
Keep Your Computer Safe In Storage
If you're heading out of the country for an extended period of time, or need to keep older-but-still-useful computer systems in storage, it's important to prepare the equipment to protect it. Before choosing a temporary home for your hardware, follow these guidelines:

Check Computer Cleanliness

One of the biggest threats to computers in long-term storage is dust collection and corrosion. Although corrosion might seem the bigger problem due to metals breaking apart, dust is an immediate concern.

Any desktop or laptop computer can generate a lot of heat. Processor heat is the biggest contributor, and computers have fail-safes to shut down the system before a fire can start. When dust collects in the system, it traps heat. A computer in storage with dust buildup (especially pre-existing dust) can suffer later.

Before storing the system, clean it (or, better yet, have a professional clean the interior) to reduce corrosion-causing humidity and dust. If you skip this step, you may have a more involved, costly cleaning to deal with later. Or you may require an expensive repair after components become brittle or burnt.

Keep out Dust

After your computer is cleaned, you don't want more dust creeping in Consider sealing it in a plastic bag before placing it carefully in a box (or bin) in your storage unit.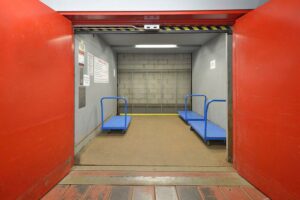 Centron Self Storage has state-of-the-art facilities, and can protect your valuable equipment better than a basic storage shed. Contact us for computer storage in North York at (647) 749-1396. We have competitive rates and will help with all your equipment storage solutions.