This Halloween, Don't Be Afraid of Affordable Storage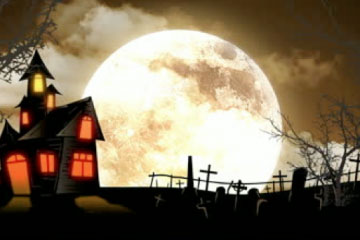 Every Halloween, there's always that house: the one with the long line of cars slowing down outside it, drivers rubber-necking to get a look. The one that all the neighbourhood kids marvel at, and are ashamed to admit they're a little bit afraid of. Cobwebs, tombstones, spiders, smoke, jack-o'-lanterns, a creepy soundtrack—they've got it all. But what in the world do those mega-scare enthusiasts do with all their stuff come November 1st?
Whether you own the number one haunted house on the block, you dabble with the odd vampire bat or dangling skeleton, or you have a little pack of pint-sized ghouls to doll up in darling costumes, the task of finding clean and affordable storage for all your Halloween swag can sometimes be … horrific. But have no fear! North York's Centron Storage can house even the most grotesque Halloween supplies!
Rest assured that using our storage units is a safe and reliable way to preserve your ghastly goods from one year to the next. In fact, our facility is the opposite of a haunted house: it's clean, brightly lit, and outfitted with all the most reassuring security systems: surveillance cameras, motion detectors, daily inspections, private patrols, your own lock, and a computer controlled access system. If you're still wary, you can always get content insurance for all your family's frightening effects, or carry over your own insurance from your provider.
The same goes for all business owners who dress up their storefronts, shops, and interiors with lively seasonal decorations. Companies who really get into the spirit of the holiday are always warmly received by people with a sense of humour. But why take up valuable stock or supply space with your ghosts, witches, and werewolves? Let us do the storing for you, and give yourself peace of mind with one of the most secure and safe storage companies in the business!
If you are the true Halloween enthusiast—the Houdini of Haunted Houses, the Master of the Maze of Misery—then there's no need to break down, destroy, or otherwise compromise your investments. Centron offers large units—10 x 10', 10 x 15', and even 10 x 20'—that can accommodate even the most monstrous of supplies. Clear out that garage and make room for the next holiday extravaganza—Christmas is just a few weeks away!
So this Halloween, who you gonna call? If you're savvy, the answer is sure to be Centron Storage!