Storing Your Vintage Motorcycle or Scooter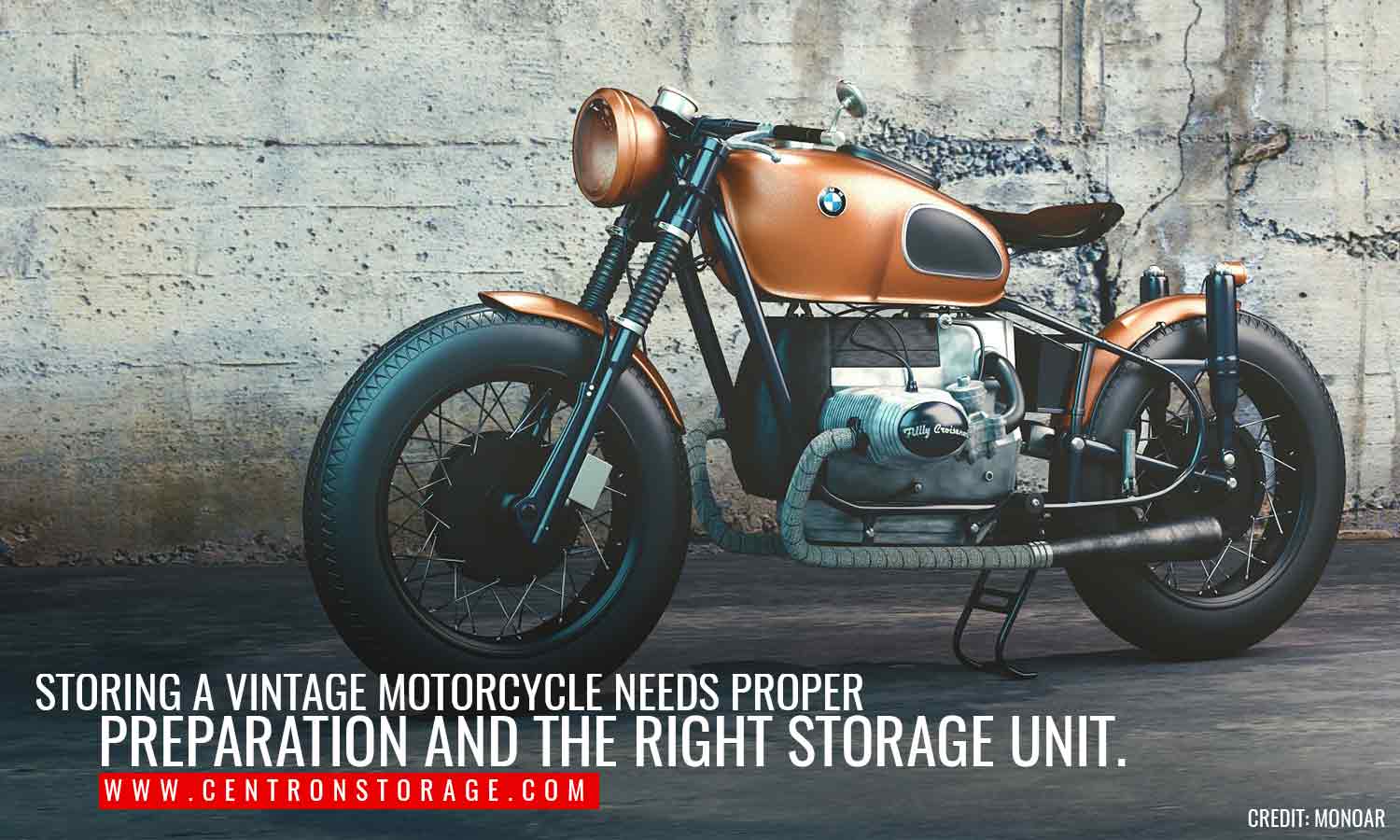 Vintage motorcycles are beautiful pieces of mechanical art; indeed, they are often classified as a "collection," especially by insurers. Owning a vintage motorcycle can be a costly and time-consuming investment. They require a greater amount of care and maintenance to keep their vintage metalwork, gears, and engines in top shape when compared with newer bikes.
To preserve their beauty and mechanical structure, most classic motorcycles need to be stored properly. An improperly-stored vintage motorcycle can be vulnerable to harmful elements, such as rust, corrosion, and humidity, potentially undoing all the hard work you put into restoring it. Storing your motorbike is also a security issue you need to consider.
In some cases, your garage may not be the best storage option for your beloved collection. Caring for them means storing them where they are safe and sound. When choosing the perfect self-storage unit in North York, there are important factors to consider, such as the physical location, security, and possible animal intrusion.
Finding The Right Motorcycle Storage Option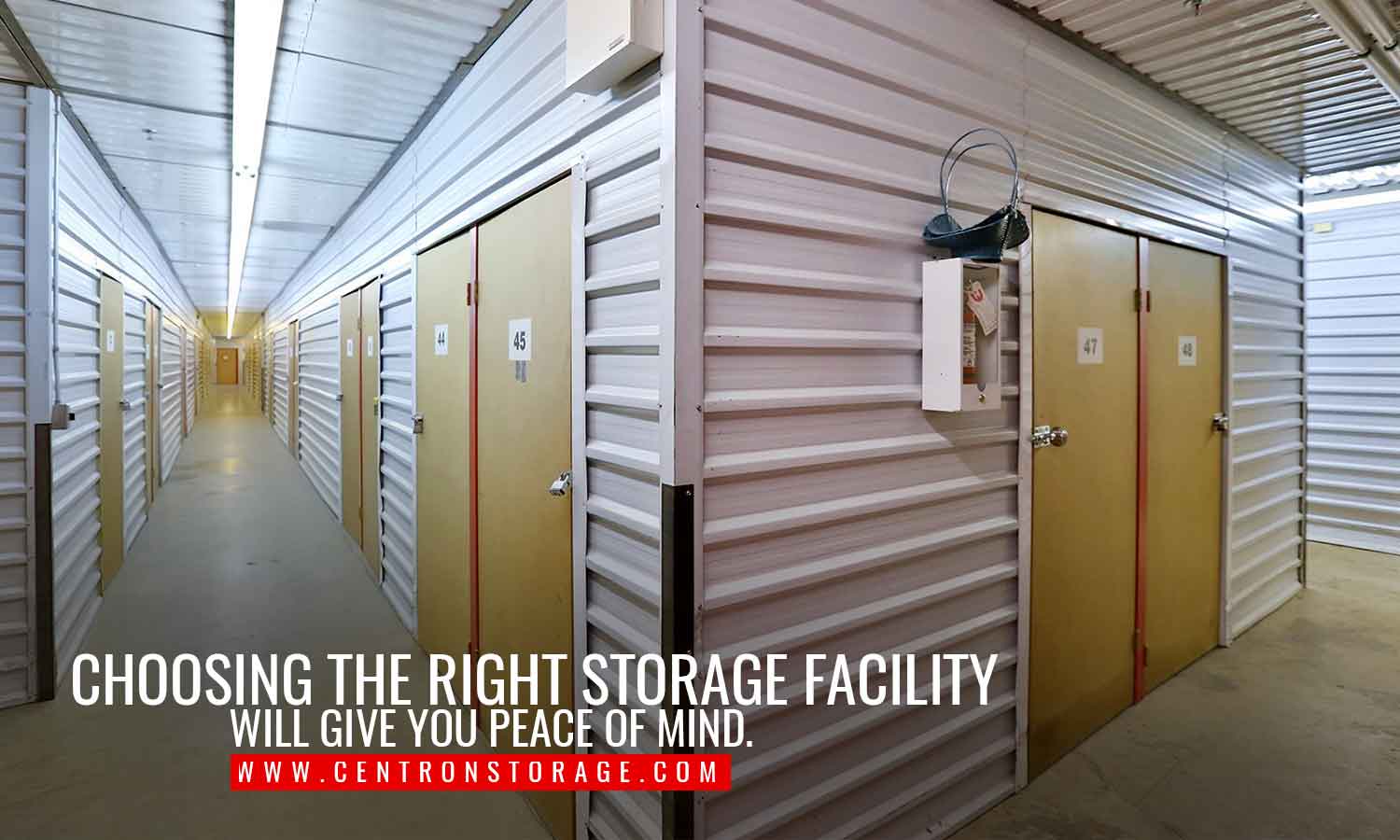 Whether you are planning to store your vintage motorbike for a few weeks, months (off-season), or indefinitely, make sure the storage facility meets your standard requirements to ensure the protection of your prized possession.
Some storage rental facilities offer amazing features and amenities for their tenants, including:
Climate-Controlled Storage – Since rust is a deadly enemy of most vintage motorcycles, climate-controlled storage keeps temperature and humidity at a moderate level to prevent potential rusting on your motorcycle's essential mechanical components.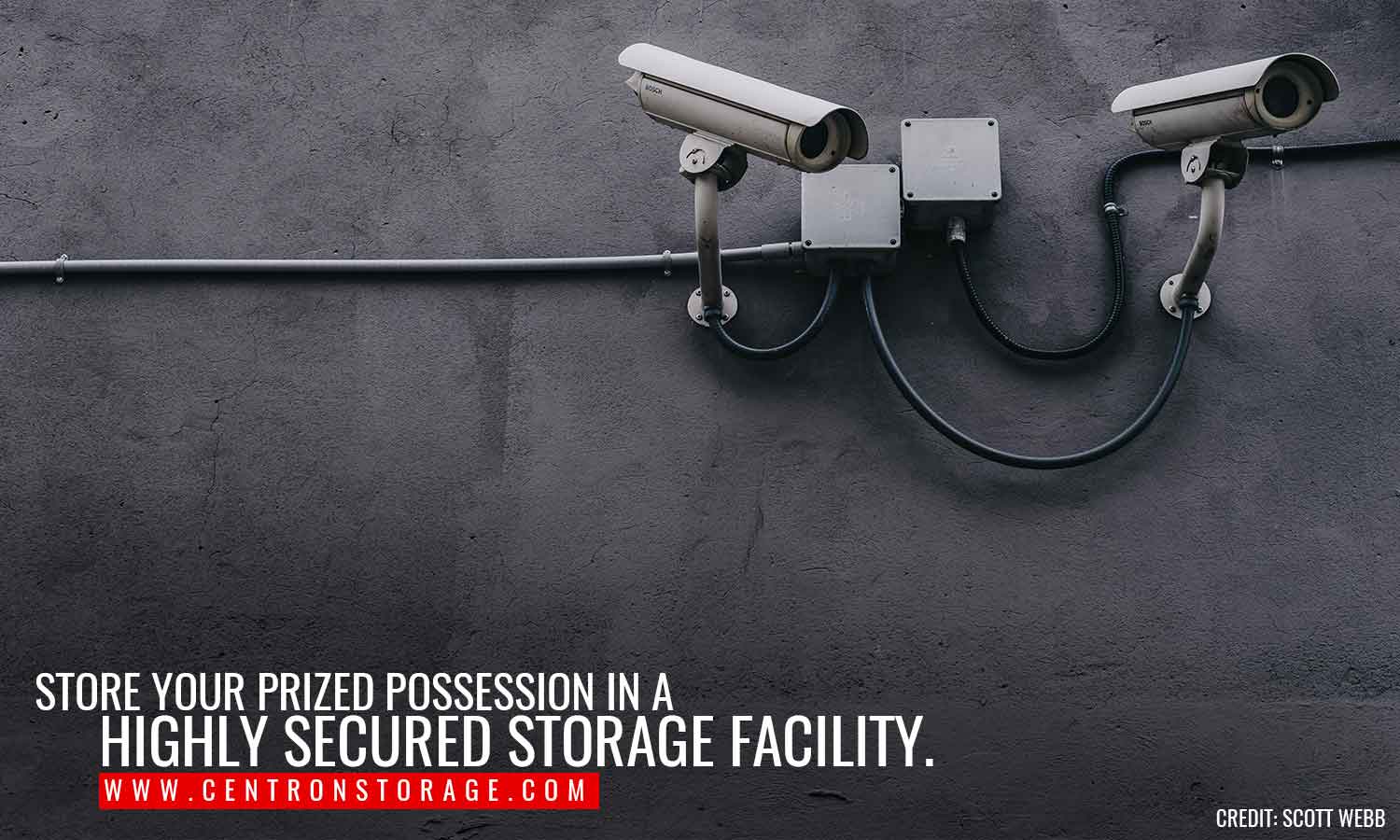 Additional Security – The storage facility should offer tight security features, such as individual alarm system, on-site management, video surveillance cameras, and gated access to protect your unit from break-ins.
24-Hour Access – Choose a storage rental in North York that allows you to access your motorcycle any time of the day or whatever it works with your schedule.
A 5×10 is the most common storage unit size to store a single motorcycle and any accessories that you may have. However, there are also larger units available that are big enough to house multiple bikes.
You should also consider how long you will be storing your vintage motorbike. For short-term storage, a smaller-size storage unit would be smart. You could pack your other belongings together around it, and everything will weather the season. However, if you are planning to store your motorbike along with its accessories and tools, or to keep it safe and secure for a longer time, you would be better off choosing a larger-spaced storage unit that can provide the extra space you need to access your belongings and maintain your motorcycle in situ. Some storage facilities in North York offer their clients with boxes and supplies to make the storing process easier and more convenient.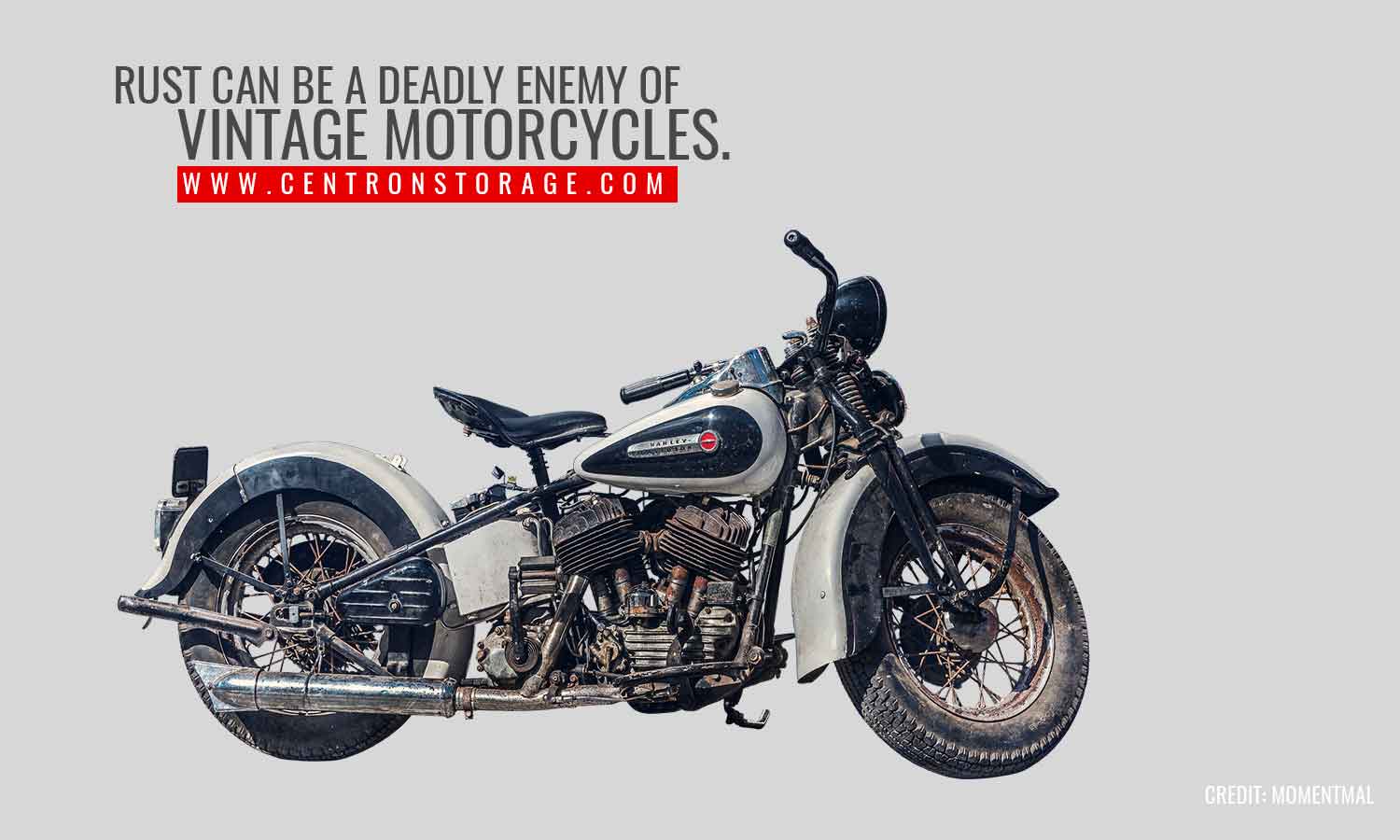 Preparing Your Motorcycle for Storage
Proper storage preparation is crucial in reducing the risk of oxidation or rust. Rust can cause costly damage on the bike's aluminum parts and discolouration on its chrome. Additionally, oxidation can degrade rubber components, making them brittle and cracked. If you are putting your ride away for a few months, consider the following tips to properly and safely store your possession until you are ready to use it again:
Create a Checklist – A checklist or a log keeps a record of all the maintenance works you have done in the previous months.
Rust Prevention – Since you will be storing your motorcycle for a couple of months, spray the engine and other metallic components with penetrating oil, such as WD-40, to prevent rust. Although adding lube to the drive chain helps prevent corrosion, spray a bit of oil on a rag and apply it on the sides of the drive chain to ensure maximum protection.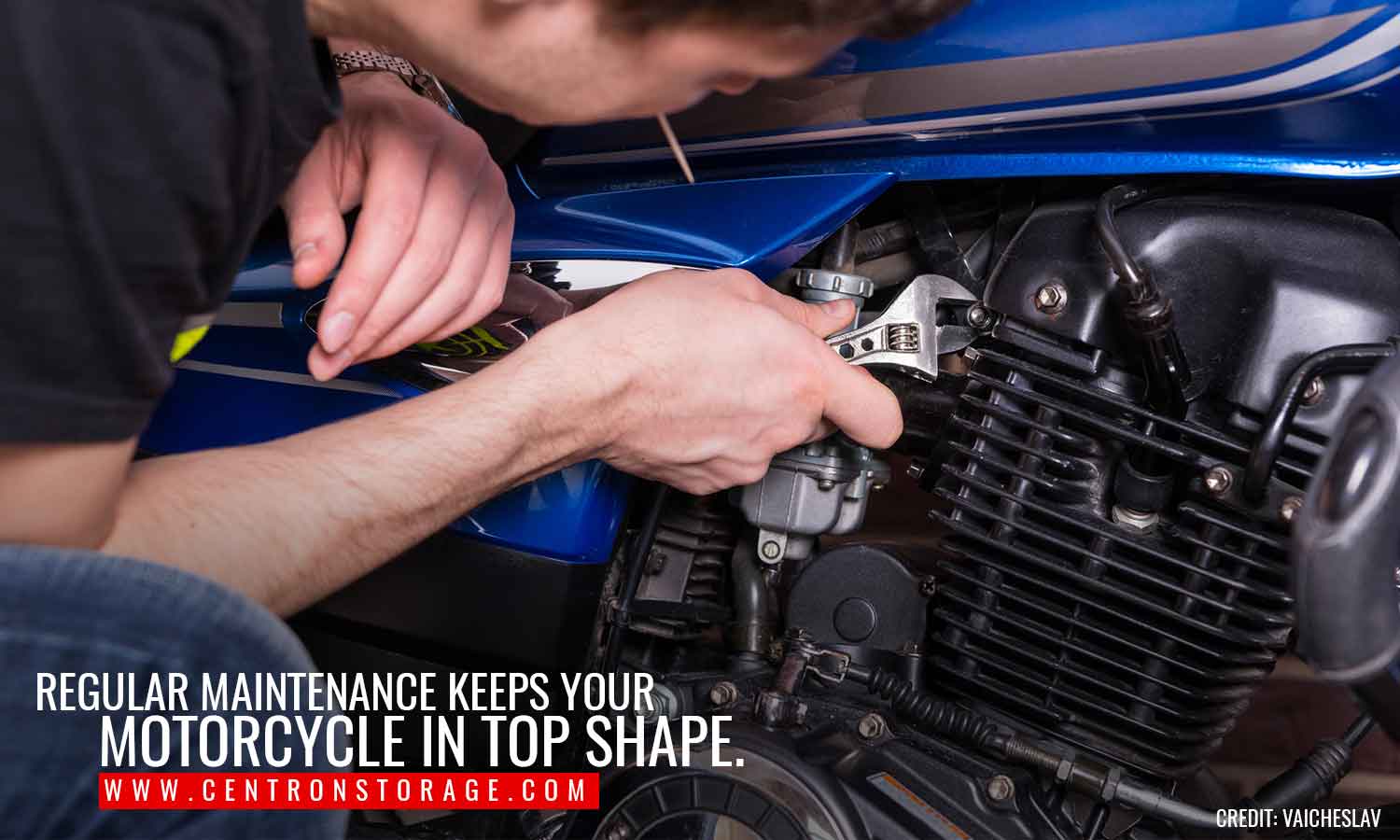 Regular Maintenance and Oil Change – Schedule professional maintenance and change the old oil and filter prior storage. Be sure to top it up to the maximum required.
Fluids (Coolant, Brake Fluid, Hydraulic Systems) – Always refer to the owner's manual for the maintenance schedule. If you cannot recall the last time you changed it, check the colour of the fluid. If the fluid looks murky or milky, it needs to be replaced.
Clean It – Give your motorcycle a thorough clean to remove dirt and debris that might hold moisture and cause corrosion on its metallic parts. Gently wipe it to dry, apply a quality conditioner on its rubber and plastic parts and wax all painted and chrome surfaces. Remove everything from all the pockets and saddlebags to avoid attracting rodents.
Use Pure Gasoline – Drain any ethanol-blended gasoline from the tank. Ethanol is a highly reactive fuel component. Over time, it can undergo phase separation, with water separating from the oil-based fuel, resulting in internal rusting or fuel solids that can clog lines or damage engine components. This is not a significant issue when operating your vehicle, but can be vital when you are storing it for more than a few weeks.
To protect the motorcycle from damage, replace ethanol-blended gasoline with pure gasoline. Run a tank of pure gas through your bike and then refill it, adding some stabilizer conditioner to maximize its efficiency.
Lift Both Wheels – Use a hydraulic lift, paddock dolly's or the centre stand to lift both wheels off the ground. Reduce the tire pressure by 20 percent or check the owner's manual for a recommendation.
Battery Care – Remove the battery and store it in a safe place. Invest in a Battery Tender, a computer-controlled trickle charger to prevent it from losing its charge completely. This helps extend the battery lifespan. Also, check the battery acid levels. Add distilled water to top it up and charge it to its full capacity.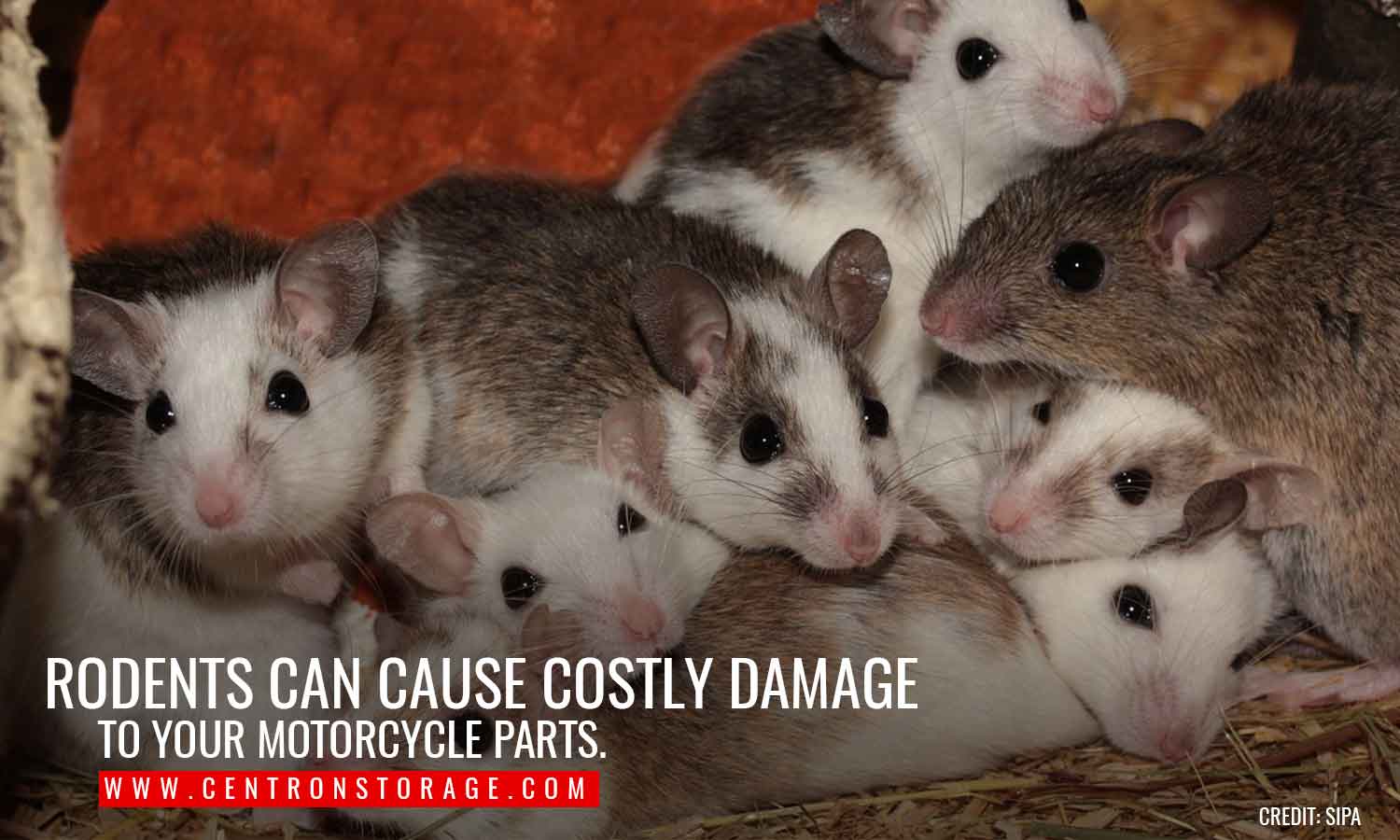 Pest Control – Rodents can invade and nest in your motorcycle airbox. Avoid putting rags as it only provides them with extra bedding. To block mice, cut out several plastic shapes and secure them with a tape to hold them in place. To effectively prevent pests from damaging your property, make sure that the storage facility is clean and well-managed.
Storing your prized vintage motorcycle requires working with a reliable and trusted self-storage facility. Always visit the storage facility and inspect it in person before putting your money and possessions on the line. Find out its strong and weak points, and ask the staff for their input, as this will help you make an informed decision and ensure that your valued possession is in good hands.
At Centron Self-Storage, we aim to provide our clients with a positive storage experience. We offer the best deals in the neighbourhood. We let you transact online with our hassle-free reservation process. For more information, call us at (416) 749-1396.