How to Clean Your Self-Storage Unit Before You Move Out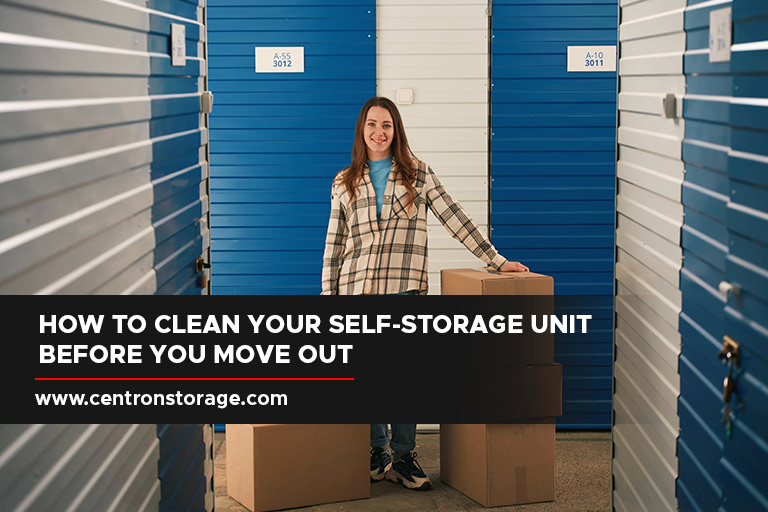 Whatever your reason for renting a storage unit, there will eventually come a time when you will no longer need it. Transferring your belongings from a unit can be its own challenge and needs you to have a strategy, from arranging your boxes to leaving the place in better shape than when you first rented it.
This article provides advice on how to move out of a storage unit. We have compiled a checklist of things to do to make the whole process as hassle-free as possible. 
Storage Move-out: Step-by-Step Process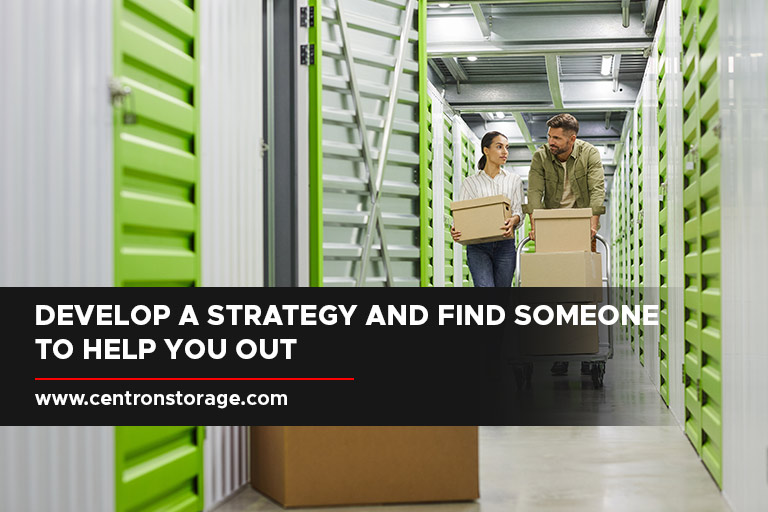 Step 1: Inform the storage company
Tell the storage company that you're taking your belongings out permanently.
Step 2: Make an inventory
You'll need to figure out exactly what's in your boxes and make an inventory. You may discover that you have priceless treasures or valuable objects that you can sell or donate to charity. An overloaded unit will require more time and work to clear, but this step will help you figure out which ones you can keep and which ones you can bring to your new home.
Step 3: Develop a game plan
Stay organized. Make a list of objects you intend to keep, items you intend to give away or donate, items you intend to sell, and items that may be discarded or recycled. Cleaning out storage facilities is challenging, but having a good strategy before you begin will help you work more effectively.
Moving out of a storage facility requires a lot of time and effort so it is best to seek help from friends and family whenever possible. If they are unavailable on the day of your storage unit cleanout, consider hiring professional moving service providers.
Step 5: Make sure your renting space is clean
A reputable storage facility will not rent out unclean units. So, keep your renting space tidy. Sweep and vacuum the floors and walls and clean up any spills to make it even cleaner.
Step 6: Remember to bring your lock
Unless the storage facility has digital locks, such as keypads, take your personal door lock when you leave. You can use it elsewhere or even if you rent a property again in the future.
Arrive early on your move-out day. Doing so will give you adequate time to take care of things, and it may prove to be less stressful. Some storage facilities can provide you with dollies and carts to help you out. Load your possessions carefully into the vehicle and secure them so you can transport them safely and without incident.
Give the storage facility a written review, either online on their website or in online directories. The time and effort you take to provide feedback will be fully appreciated.
Helpful Tips for Cleaning Your Unit Before Moving Out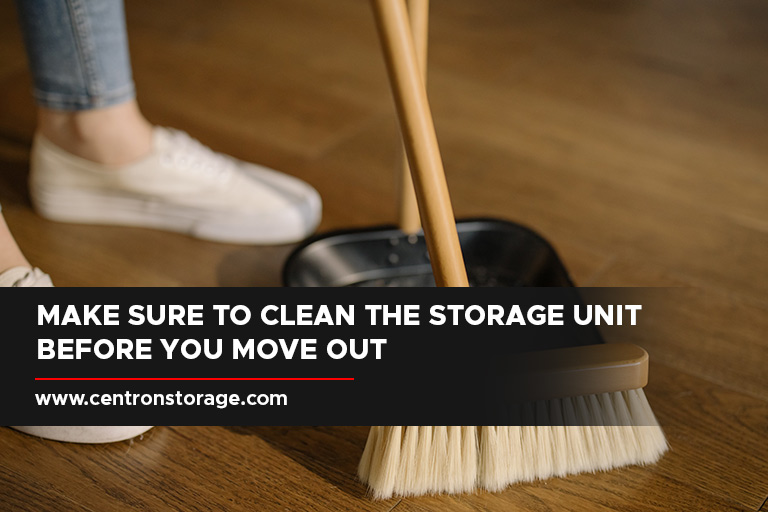 Here's what you need to take note of when you're preparing to clean your unit:
Cleaning Supplies:

Make sure that you are well-equipped with the right cleaning supplies. 

Walls:

The walls and floors are the most critical locations to clean. Because debris might fall to the ground, begin with the walls. Determine how unclean the walls are before cleaning them. A duster or dry rag can be used to remove dust off walls for a neat look. Dirtier walls may require some elbow grease and a damp towel to clean. Also, clean all surfaces in the unit, including any shelves or ledges. 

Flooring:

You'll probably spend most of your time on the flooring. They collect dust, filth, and grime from foot traffic. To begin cleaning the floor, carefully sweep the area. Clean all of the corners and baseboards and try to get rid of every last bit of dust.

Cleaning Standards:

Check with the rental company to ensure you have met their standards for cleaning.
Cleaning your self-storage in North York can be a simple task if you have a strategy. We hope these storage unit move-out tips come in handy. Do not hesitate to contact the Centron Self Storage team at (647) 557-7378 for move-in or move-out details!