9 Effective Ways Prepare Your Snowmobile for Off-Season Storage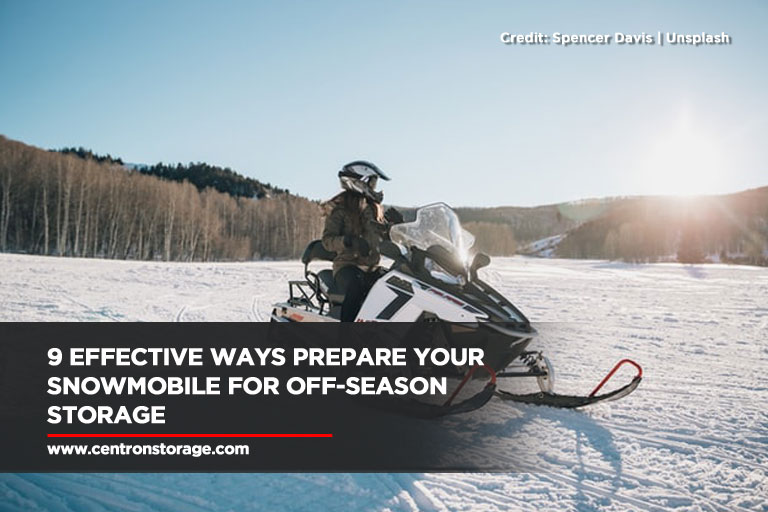 Wintertime is coming to an end, along with it the usefulness of various winter-related equipment like your skis, sleds, and snowmobile.
However, while storing some of these items may be simple and straightforward, placing your snowmobile in storage during the off-season may require more time and consideration. It's a complex machine with moving parts, electronics, and other components that don't do well when idle for a long period of time. Carelessly storing your snowmobile will just cause more harm to the vehicle than good.
To prevent any damage, know what you need to do to get it ready for its long nap until the next winter season.
How to Prepare Your Snowmobile for Storage
There are quite a number of things to be done to have your snowmobile prepared for. The main goals for the preparations you're about to make are to make sure that important components stay functional and prevent moving parts from getting stuck due to corrosion over the long storage period.
1.Clean Your Snowmobile Before Storing it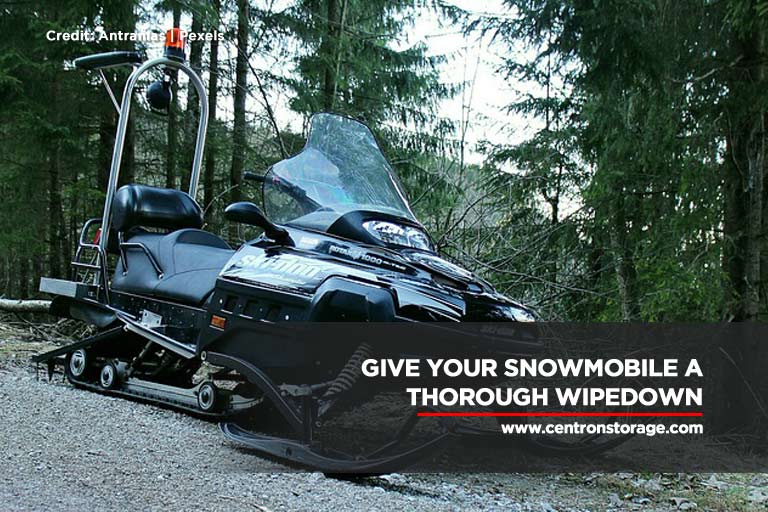 Your snowmobile has seen its fair share of action over the winter. While driving your vehicle over the snowy terrain, bits of dirt, mud, and other bits of debris has gotten stuck onto the machine's exterior and exposed parts like the suspensions, springs, skis, and the track.
The first thing you should need to do before hauling your snowmobile off to a garage or storage unit is to clean it first. Cleaning your machine is essential for a number of reasons such as:
Cleaning your snowmobile can prevent abrasion and corrosion damage from harmful elements such as salt to the vehicle's structure and parts.
Removing debris such as rocks, and dirt build-up will ensure that moving parts such as gears and tracks can still function smoothly the next winter.
A clean snowmobile is easier to inspect for signs of wear and tear.
Cleaning helps reduce the breeding grounds for harmful bacteria.
When cleaning your snowmobile, here are important things to remember:
Use warm, soapy water on the hood, tunnel, seat and nose pan and rinse it thoroughly. Make sure all the mud and debris are totally removed.
Spray grease-cutting cleaner under the hood.
Spray engine degreaser near the oil reservoir and exhaust ports. Rinse well after.
Polish your snowmobile with the recommended wax.
2.Apply Rust Prevention Measures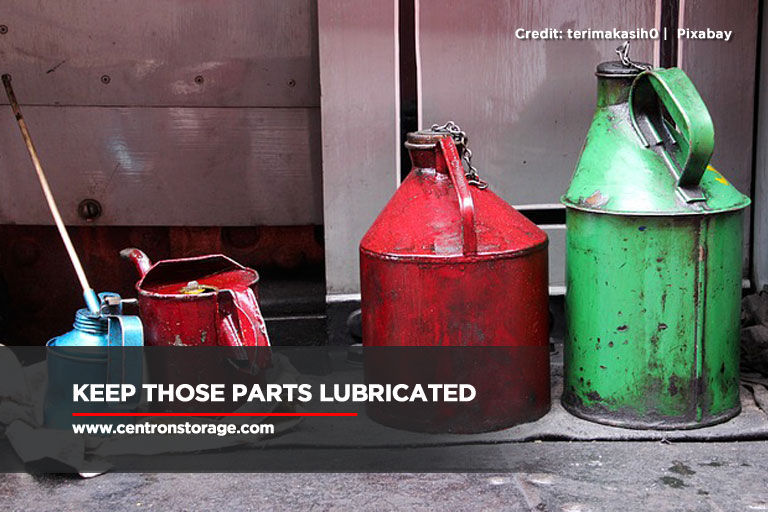 After cleaning your vehicle, the next step in the snowmobile storage preparation plan is to employ rust prevention measures. Condensation cause parts to deteriorate during the long, idle period and they can compromise your machine.
Taking preventive measures against rusting is key to ensure optimal performance and functionality. Here's what you have to do:
Apply the recommended type of grease to any area where fittings exist.
Check nuts, bolts, suspension rails, and other parts for any signs of rusting and have them replaced.
Spray lightweight oil such as WD-40 on all-bare metal surfaces.
3.Maintain the Fuel System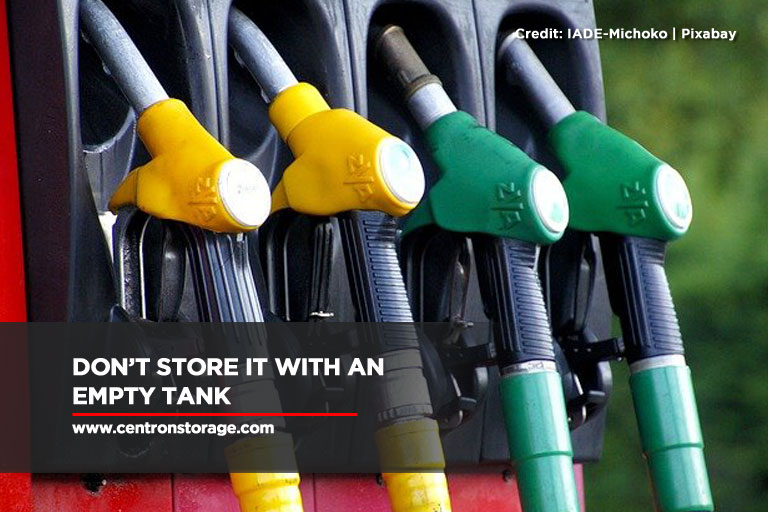 Before putting your snowmobile to sleep, one of the most important tasks you have to perform is to keep the fuel system properly maintained. One thing that you have to remember is to never store your snowmobile with its tank empty. This is essential because of the following reasons:
Storing a snowmobile with the fuel tanks empty can cause the seals and the gas gauge to float to dry out and become damaged.
A snowmobile's engine parts rely on fuel for lubrication and protection, especially when not in use.
Emptying the tank is only applicable to older models that use a carburetor system.
To ensure that your snowmobile's fuel system isn't compromised during storage, make sure to fill the tank. There some things to take note of:
Make sure to add a fuel stabilizer to prevent gasoline solvents from breaking down and causing corrosion in the carburettor.
Run the engine for a short time before storing your vehicle.
4.Make Sure to Remove the Battery and Drive Belt Before Storage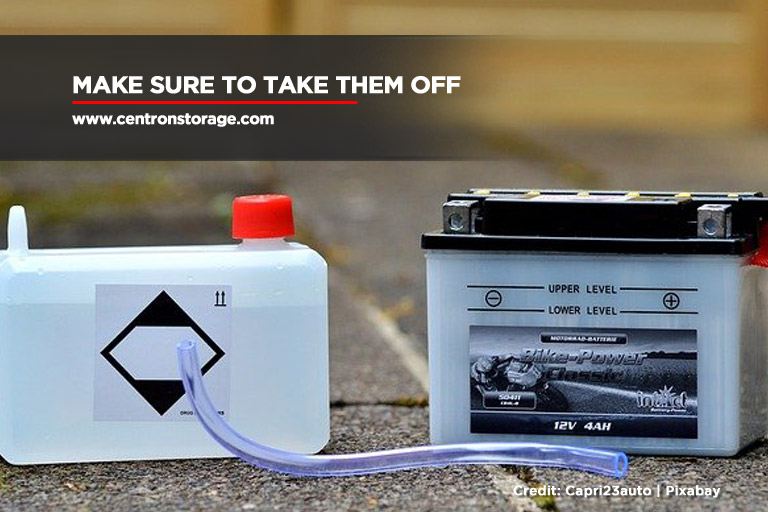 Do not store your snowmobile with the battery still attached. Take out the battery and store it in a cool dry place away from sunlight or, if possible, a temperature-controlled area. Furthermore, make sure to charge the battery once a month using a small charger.
In addition to the battery, make sure to remove the drive belt from your snowmobile. There are important reasons for doing so, such as:
Removing the belt will keep it from settling to its installed shape. If you don't, this might prevent it from rotating properly the next time you use it.
Taking the belt out reduces the risk of condensation building up between it and the clutch.
5.Fog the Engine If Necessary
One way to prevent moisture from damaging your snowmobile engine while in storage is to do fogging. This process involves coating your machine's crankshaft bearings, connecting rods and other engine parts with fogging oil.
The fogging oil displaces moisture from the metal and forms a protective coating. This helps prevent air and moisture from causing corrosion, which makes the parts prone to failing.
6.Cover Your Snowmobile
Even when placed in a proper storage room, your snowmobile is still susceptible to dust, scratches, and even rodents. The best way to prevent this is to cover it with a soft, lightweight and breathable cover. You can also cover the intake holes and the muffler outlet with steel wool to keep rats and mice out.
7.Look for a Good Storage Location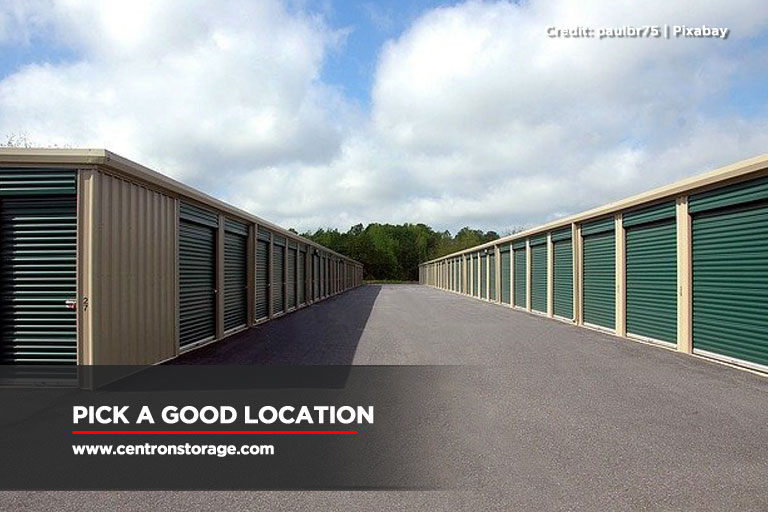 Placing your snowmobile outside will just expose it to harmful elements such as rain, harsh sunlight, and dust which will hasten the damage to important components. If you want to extend the life of your machine, pick a proper storage location for the off-season.
While a climate-controlled room might be ideal, a clean garage or storage unit are perfect alternatives. Just remember to keep the snowmobile away from direct sunlight or wet areas.
8.Keep Your Snow Mobile off the Ground
One of the best snowmobile storage ideas is to keep your machine off the ground while in storage. You can do this by doing the following:
Elevate the rear end of the vehicle by placing a jack stand under the rear bumper. After that unhook the springs
Lift the snowmobile and set the chassis on a wooden box or crate so the front suspension can hang freely.
Keeping your snowmobile off ground is quite beneficial since it takes the tension off the springs and helps them last longer.
9.Start Your Snowmobile Up Once a Month
Make it a point to take your snowmobile out of storage and start the engine up once a month. By doing this, you prevent sediment from settling and the seals from drying out.
Your snowmobile is a valuable investment, so it's essential that you keep it safe during storage. By following these storage tips, you'll be able to ensure that your machine is in top shape for the next winter ride.
If you're looking for an excellent storage solution for snowmobiles in the North York area, contact Centron Self Storage at (647) 749-1396. We offer great deals and will be happy to provide you with the best service possible.