7 Ways To Store Your Snowboards and Skis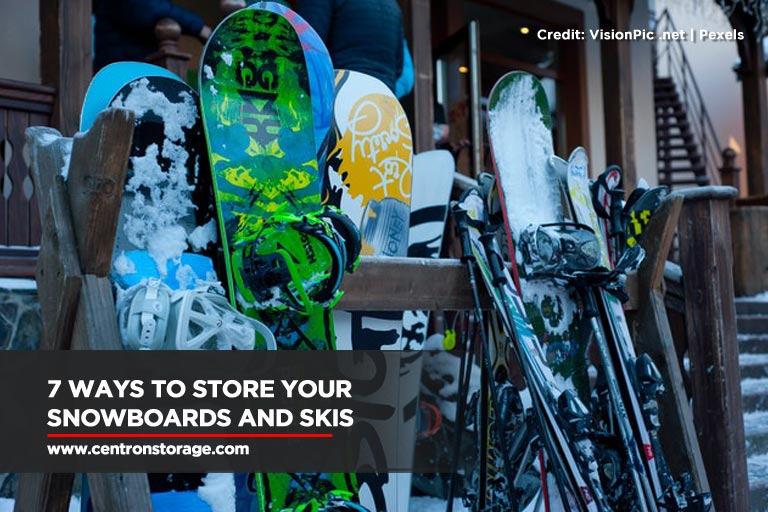 If you're the type of person who loves to stay active in the winter, then you've probably seen your fair share of action down those snow-covered slopes. After all, nothing beats the thrill and excitement of snowboarding or skiing during the wintertime.
With the last vestiges of winter melting away, it's time to pack up and put your skis and snowboards back into storage. However, you have to store these types of equipment properly. Otherwise, they will deteriorate and become unusable.
If you want to make sure that your snowboards and skis are in top shape for the next winter, you need to know how to store them properly. To help you get started, here are effective snowboard and ski storage ideas.
How Do You Store Snowboards and Skis Off-Season?
Storing your snowboards and skis for the off-season will require proper preparation and planning since they're going to remain untouched for quite a long time. Throwing them into a shed somewhere and calling it a day isn't going to cut it if your end goal is to keep these pieces of equipment in excellent condition.
1.Check Your Snowboards and Skis for Damage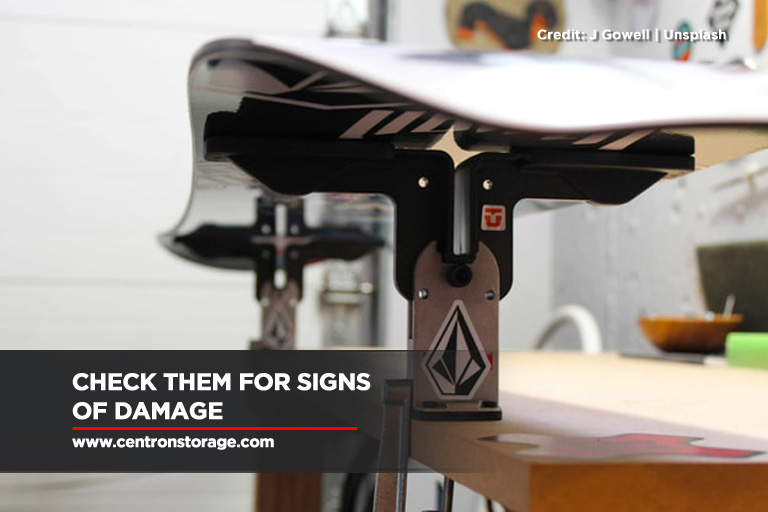 Going down those icy slopes is exhilarating at high speeds. However, if your skis and snowboards are damaged, not only will it affect performance, but might be a safety hazard and will put your life at risk. So before you put your winter sports equipment into storage, the best thing to do is to check for damage and, if possible, do some repairs.
Here's what to do:
Check your snowboards and skis for little cracks and chips on the sidewall and top sheet. This allows water to seep into the wood core of your equipment and results in a loss in stiffness and flex.
Get rid of the remaining water and apply epoxy resin on the damaged areas of your skis.
Use a metal scraper or sharp knife to and gently scrape the glue from the edges.
Sharpen the edges and remove obvious burrs. This will reduce the chances of the edges rusting during storage.
If there are signs of rust, use a gummy stone, Scotch Brite pad, or medium steel wool to gently remove rust.
If the damage on your gear is extensive, bring it to the shop and have a professional take a look at them.
If repairs are impossible, then better to opt for a replacement.
2.Clean Your Skis and Snowboards
After using your skis and snowboards down those slopes, dirt, salt, mud and other bits of debris might have latched onto your gear. The first thing you need to do is clean these substances off your equipment.
Cleaning your skis and snowboards before storage is an essential step since:
Removing harmful substances, such as salt, from your snowboards and skis will prevent corrosion and structural damage.
Cleaning will keep your winter sporting gear from being a breeding ground for harmful bacteria.
Clean snowboards and skis are easier to check for signs of wear and tear.
When cleaning your snowboards and skis, you need to pay attention to a couple of things to make it effective and prevent damaging your equipment:
Use a garden hose and spray water on your equipment thoroughly. However, avoid forcing water into the bindings as much as possible.
Do not use detergent or degreasers because they could negatively affect the lubricant on the bindings.
For grease or spring pollen build-up that has gotten stuck on the base, use a piece of cloth dipped in a small amount of citrus solvent.
3.Apply Storage Wax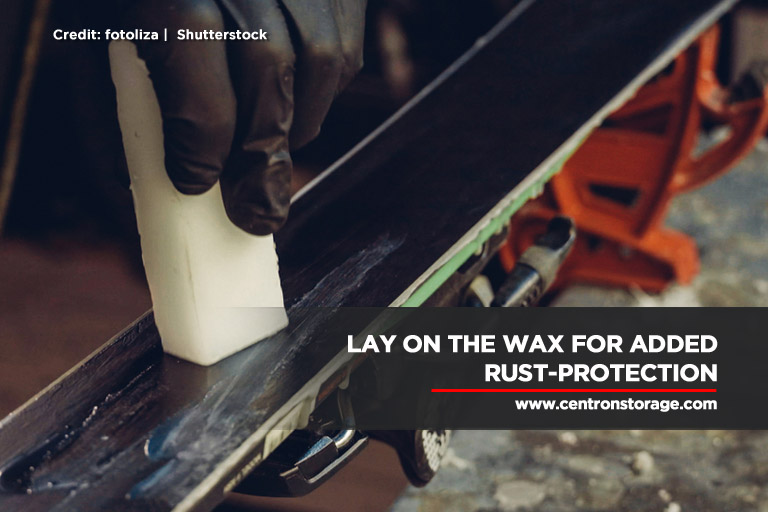 Waxing is one of the most important things in preparing your snowboards and skis for storage. Storage wax protects the bases from oxidation, moisture, dirt, and prevents the build-up of rust during storage.
When applying wax on your snowboards and skis, make sure to do the following:
Don't scrape off the residual wax from before. This adds an extra layer of protective coating.
Make sure to apply a generous amount of wax all over the base using a waxing iron at low heat.
Use warm weather or all-temperature wax if you can.
Cover the edges with was to keep them from rusting.
4.Look for a Good Storage Location.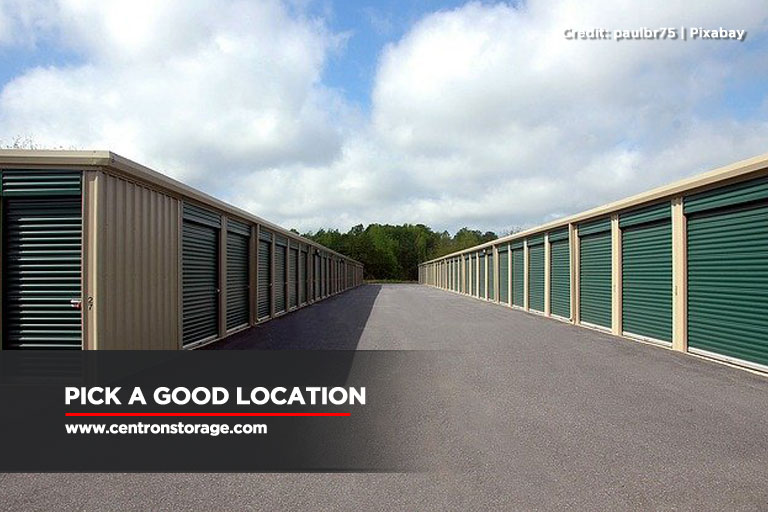 Your storage location matters in terms of keeping your snowboards and skis in perfect condition during the long idle period. Store them in an area that is not prone to super high or super low humidity since both can cause adverse effects on your winter sporting equipment.
In low humidity areas, here are the effects on snowboards and skis:
Low humidity can lead to delamination of your skis by heating up the glue that binds all the layers of the gear together.
Low humidity can cause the equipment to dry out and become stiff.
Low humidity can make the interior of the board lose its shape.
In areas with high humidity, the effects are as follows:
High humidity can encourage mould and mildew to grow on your skis and snowboards.
High humidity can cause the edges to corrode and rust.
Find an indoor area that is cool and dry, preferably those with temperature and climate control, for the ideal snowboard and ski off-season storage.
Here are recommendations on where to store your gear for the off-season:
The bedroom
The coat closet
Under your bed
On the living room wall
A self-storage unit
5.Wrap Your Equipment
You may have cleaned and waxed your winter sports equipment and found a suitable storage location, but your snowboard and skis are still susceptible to harmful elements including:
Dust
Insect infestation
Scratches
Accidental spills
Wrapping them in a plastic wrap or keeping them inside specifically made ski or snowboard bags can add an extra layer of protection for the long storage period.
6.Store Your Snowboards in the Proper Position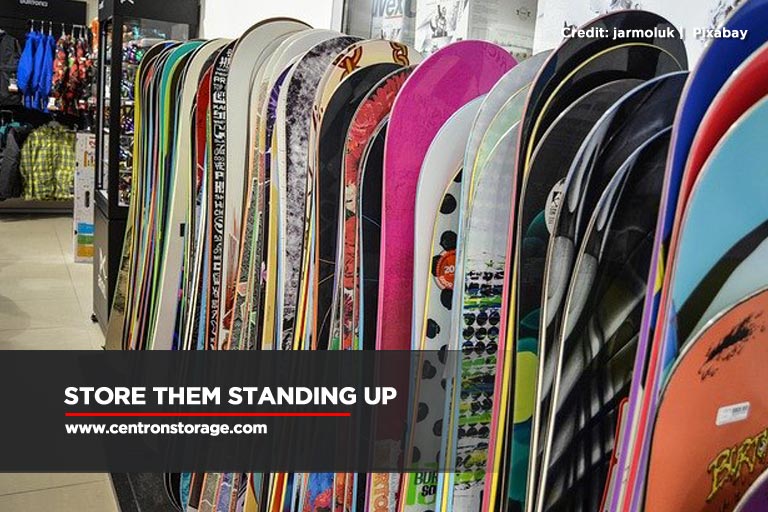 For snowboards, storing them lying down on a hard surface over a long period of time can have adverse effects, especially when something is placed on top of them. It can put pressure on the camber or rocker sections and can result in them flattening out.
To avoid this, a great snowboard storage idea is to store your snowboard in the right position. Here's how to do so:
Store your snowboard standing up on its tail.
Lay them down on a carpeted area.
Hang them on a skateboard rack on your wall.
7.Strap Your Skis Together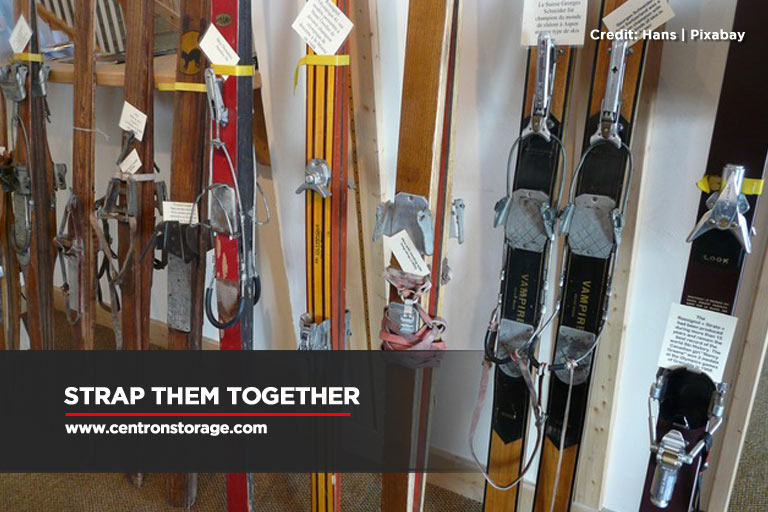 Skis can accidentally bend out of shape if you don't store them the right way. An excellent ski storage idea to sidestep the problem is strapping them together — but not too tightly.
After that, you need to store them in the correct position that doesn't place any strain on them. Here are the ways to do it:
Lean your skis on other objects
Hang your skis on a skateboard rack
Lay your skis on their sides on the ground.
It's going to be a while until the next snowfall, so your skis and snowboards will be left unused for months on end. By following these effective snowboard and ski storage ideas, you will be able to keep your equipment in perfect condition for the next winter activity.
If you're looking for an excellent storage solution for snowboards and skis in the North York area, contact Centron Self Storage at (647) 749-1396. We offer great deals and will be happy to provide you with the best service possible.