With The Kids Gone To School, It's Time To Make Room With Centron Storage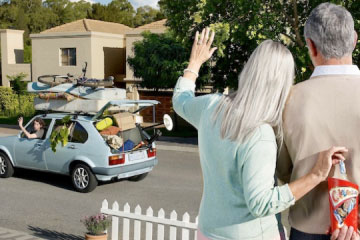 After eighteen years of living at home, your son or daughter has finally made the big move and has headed off to college or university. Strange how time flies, right? What's even stranger is now that it's mid-fall, it's already been several weeks since they moved out!
Though they may have tried to take all their earthly possessions with them, they were bound to leave most of their stuff behind—relegating the family home to a glorified storage facility. If your basement, garage, crawlspace or even living room is now stuffed to the rafters what the kids couldn't fit into the moving van, maybe it's time to make another move—from the home to Centron Storage!
One of the perks of living in a so-called 'empty nest' is the freedom to take back your own space. Why allow your young scholars' unused furniture, clothing, books, electronics, and keepsakes to dominate your storage areas? Now's your chance to renovate, clean, remodel, and turn over a new and invigorating leaf! Centron Storage has units available for anything the university-bound students have left behind, no matter how bulky, awkward, or precious. With superior security systems and year-round access, both arts and science majors (and parents) can rest assured that their belongings are in excellent hands.
It's a grim fact that post-secondary education is an expensive investment. If you're like many Canadian parents, you've probably already donated a great deal of cash to your kids' futures (and are no doubt preparing for those mid-semester phone calls when the money runs low …). Luckily, unit rentals at Centron Storage are highly affordable, and perfect for the busy and working family. And if you're still tired of collecting boxes from the big move, Centron is happy to offer boxes, packing tape, bubble wrap, and other storage supplies on site!
So go ahead and convert that game room into an office, or change that box-filled garage into a newly functional workplace. Centron Storage can accommodate all the excess remainders of your recently downsized nest for as long as you like—a month, a semester, a full school year, or beyond. When the recent grads finally get a home of their own, they'll find their belongings safe and sound and just how they left them.
And who knows? Maybe the next big move will be from Centron Storage back home. Everyone loves a boomerang reunion!