The Best Time to Rent Storage Units in Thornhill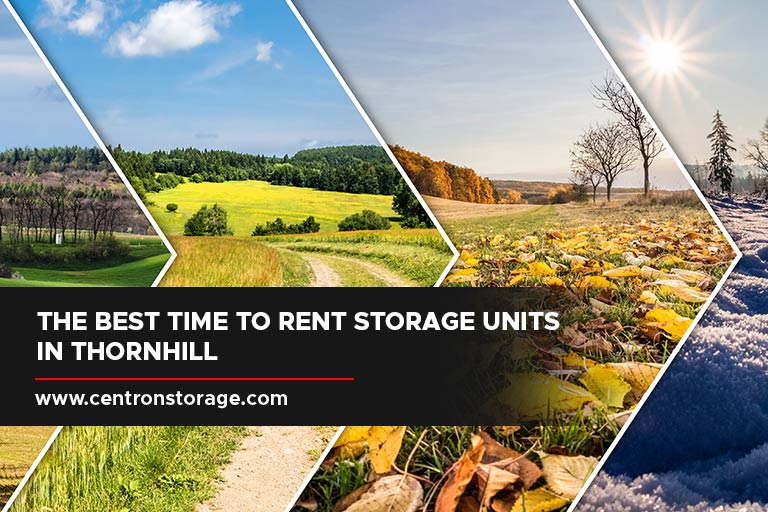 For storage solutions, timing can play a crucial role in enhancing your experience. Whether relocating, decluttering, or seeking extra space, knowing when to secure a storage unit can make a significant difference. Let's delve into various scenarios that help you determine the best time to rent storage units in Thornhill, North York.
Seasonal Factors to Consider When Renting Storage
Timing your storage unit rental can be influenced by the changing seasons. Here's a breakdown of how each season could impact your decision:
Spring: A Season of Fresh Beginnings
As the chill of winter retreats, nature awakens in the vibrant embrace of spring. Like nature's renewal, individuals are often inspired to rejuvenate their living spaces. Spring is synonymous with decluttering and reorganization—when many turn to storage units to create space and embrace the energy of change. Whether packing away winter gear or clearing room for outdoor pursuits, spring offers an opportunity to secure a storage unit.
Summer: The Peak of Relocations
With the arrival of summer comes a sense of movement and change. Families, particularly those with school-going children, capitalize on the summer break to embark on new journeys. This often involves relocations, making summer the peak of the moving season. Consider reserving a storage unit a few weeks ahead to optimize your move. This provides the necessary window to sort, pack, and arrange your belongings efficiently, ensuring a smooth transition.
Fall: Transition and Preparation
Autumn heralds a period of transition and preparation. Students step into new chapters as they move to dormitories while individuals gear up for the festivities ahead. Renting a storage unit during fall can serve as a bridge during these transitions. Using storage solutions, you can manage your possessions seamlessly as you navigate new beginnings or prepare for celebrations.
Winter: The Off-Peak Advantage
As winter blankets the landscape, there's often a gentle ebb in storage unit rentals. However, this ebb presents a distinct advantage. Numerous storage facilities extend discounted rates during these colder months, offering a cost-effective solution for those prioritizing budget-friendly options. If your schedule allows flexibility and time is not pressing, winter might just be the ideal time to secure your storage space.
Life Events and Storage Solutions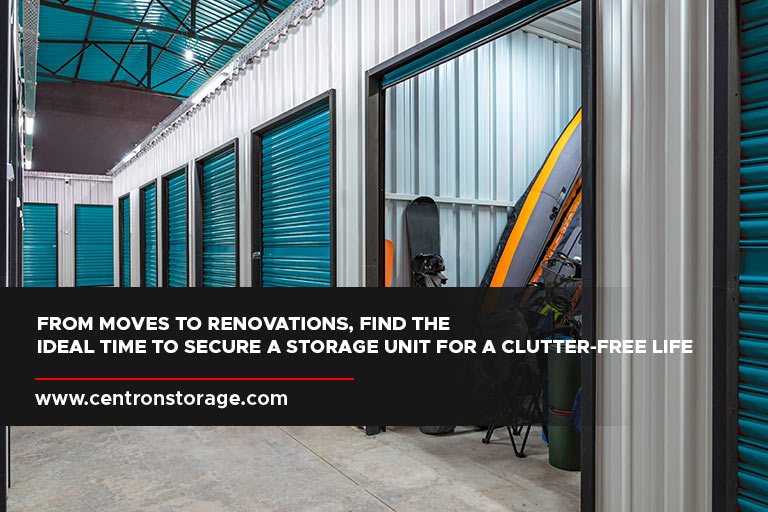 Certain life events prompt the need for extra storage space. Here's how storage units can be beneficial during pivotal life changes:
Relocating to a New Residence
Moving allows you to evaluate your belongings and decide what to keep, donate, or store. Renting a storage unit during a move can streamline the process and ensure a clutter-free new home.
If you're embarking on home renovations, renting a storage unit can safeguard your possessions from damage during construction. By temporarily relocating items, you create a safer environment for both your belongings and the renovation process.
Whether you're downsizing or upsizing your living space, a storage unit can offer practical solutions. Store items that aren't immediately needed, ensuring your new home remains organized and spacious.
Holiday and Seasonal Storage
Holidays often call forth decorations, seasonal gear, and special items. Renting a storage unit can help you stay organized throughout the year:
From festive trees to Halloween adornments, holiday items can occupy substantial space at home. Renting a storage unit lets you keep these items safe and accessible when required.
Seasonal Sports Equipment
If you partake in seasonal sports like skiing or kayaking, you understand the challenge of storing specialized equipment. A storage unit provides a dedicated space to keep your gear between seasons.
Business and Inventory Storage
Storage units are valuable not just for personal use but for businesses as well:
Businesses with fluctuating inventory levels can benefit from storage units as an extension of their workspace. Extra inventory can be stored and accessed as needed, streamlining organization and efficiency.
Over time, paperwork accumulates. Rather than cluttering your office, consider renting a storage unit for secure document archiving. This frees up the workspace and ensures important records are well-preserved.
Are you ready to maximize your storage experience at the ideal time? Make Centron Self Storage your first choice for expert storage solutions tailored to your unique needs. Get in touch with us right away to get your ideal storage unit in Thornhill. Your path to a more organized lifestyle begins with us!