Storing Documents and Files in North York with Centron Storage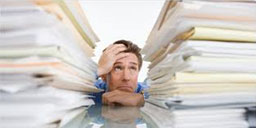 Document storage is a necessity for every business owner. Due to strict government regulations, your business must keep a minimum of seven years worth of records. Whether you operate a small business a large enterprise, that's a lot of files. It can lead to piles of unused boxes that consume space which can otherwise be used for other more profitable schemes; for example, extra merchandise, space for an extra sales consultant, etc. Centron Storage provides secure document storage services for a low affordable cost.
But wait… Why not just use a full service record retrieval company? Sure, if you own a large corporation and have the money, why not use an expensive record retrieval company? For smaller and medium sized companies this is a complete waste of valuable finances and can eat up your budget. Centron Storage provides the most cost effective solution to this matter, allowing individual document storage units for organizations.
Our clients who benefit from affordable document storage in North York include doctors, dentists, lawyers, architects, accountants, real estate agents and insurance brokers. All of our clients have seen a reduction in business costs thanks to their acquisition of a storage locker. This allows them with freedom to grow their businesses and their salaries.
In order to get your very own document storage locker you just have to speak to our friendly representatives. We offer various sizes for document storage ranging from 5×5 to the size of a single car garage. Depending on your organizations size, our many sizes allow you to receive the most bang for the buck.
Centron is committed to making the transition to a storage unit seamless for all of our clients. We provide you with boxes and supplies which you can use to store your documents. This will not only save you time and money but is an efficient way of getting all you need in one spot.
Be sure to reserve your storage space today and see profits grow. All of your documents will be secure with our 24/7 video surveillance and attentive staff. Keep your documents for your eyes only with Centron Storage.