Store Your Holiday Decorations The Safe And Inexpensive Way!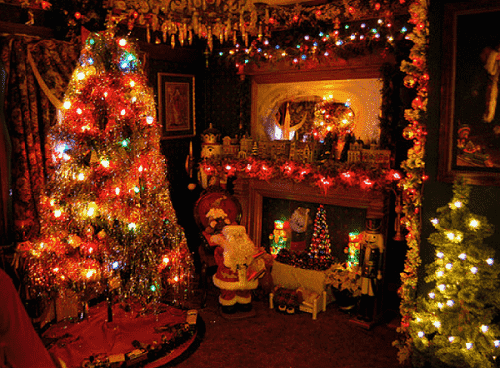 For many families, transforming the home into a winter wonderland each December is a time honoured tradition. Hauling out boxes of supplies, throwing on a CD of cheesy tunes, baking up some gingerbread, and decorating the house for the upcoming holiday season can make even the hardest Grinch crack a smile.
But once the season's over, putting everything away again come January (and into the gloomy depths of the basement or garage) isn't quite so merry. Plastic Christmas trees are never fun to fold back into storable shape, while chintzy ornaments seem to accumulate in greater numbers every year. Everyone's got a box full of lights, green cords tangled in a confusing mass. And if you've got an abundance of outdoor holiday decorations—a giant inflatable Santa Claus and team of artificial reindeer landing on your roof, wooden or plastic elves dotting the driveway, or a major Nativity scene—you're going to want a safe and secure place to store all of your goods for eleven months out of the year.
If storing your growing collection of holiday supplies is becoming a season-souring experience, check out the many rental unit options here at Centron Self Storage North York—we've got storage space for every holiday enthusiast (small, 20-ft square rooms for a few boxes and larger areas—up to 300 square feet—for those huge outdoor decorations). Though the weather outside will no doubt be frightful (another polar vortex is moving in!), we've got you covered with climate-controlled features at our Chesswood Drive location (just a couple of blocks west of Finch and Dufferin). That means nothing will freeze or be exposed to the elements, and the integrity of all your cherished decorations will always be retained. If you run out of tape and other sorts of packing supplies during the busy gift-giving and postage season (sending away and wrapping presents can take a lot of work!), don't worry—we've got more than enough tape, bubble wrap, furniture covers, and other moving/packing goods to keep your things safe and sound and wrapped up tight.
It's no secret that many people have to watch their wallets throughout the holidays. If you've got a large extended family, numerous co-workers, or other close friends, sometimes January bills can be a real nightmare. With that in mind, our affordable North York storage units won't sabotage your seasonal budget. With our fall special, you can rent up to four 10 x 15 foot units for only $199 a month—that's the best value in self-storage you're likely to find in the city, and beyond.
This January, don't dread having your closets, basements, and garages dominated by all those festive supplies. Clear our your space and keep your decorations safe by using Centron—and remember, next year's festivities are only 12 months away!