Spring Cleaning in North York: Thank You Self Storage!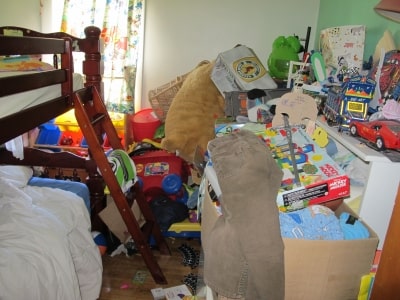 She was here for a long time. She gave us movie nights under the blankets. We drank hot chocolate because of her. We spent hundreds of dollars on Canada Goose jackets to shield ourselves from her. She may have even given us that cold our mother always warns us about. Some would say she overstayed her welcome. Eight months is certainly a long time. Winter, we bid you farewell. Our better friend, Summer is here.
With the weather in North York finally turning around (and boy has it done so nicely) it's time to start cleaning up our homes. It appears over the last two weeks of warmth that our temperature roller coaster is over. We no longer have to be wary or untrusting of summer days like we were in April. 22° one day and -4° the next. It's over. It's time to pack up our old boots, sweatshirts, jackets, and everything else that reminds us of the dreaded cold.
But wait… Where does it all go!? Box after box, the clutter just keeps building up. Should you keep it in your house? Packing up eight months of our life is sure to take up a whole lot of room (if we can even find any). Luckily the genie answered our wish: Centron Self Storage. Our two locations are conveniently located at Keele and Finch on at 4500 Chesswood Dr and Main and Danforth at 6 Dawes Rd. We have plenty of storage rooms available at extremely affordable rates. Our handy self-storage calculator will find you a size that works for you.
If you're just looking to store the contents of a closet, a 5 x 5 (200 cubic feet) unit will be just right for you. If you've got a lot of possessions you want to keep over the warm months Centron Self Storage has bigger spaces available, up to 10 x 20 (1700 cubic feet). Our climate controlled facility will keep your winter items cool, so you can sleep well knowing your belongings aren't melting in the hot summer sun.
Spring cleaning is a great way to clean up the house and make room for new things. Cleaning your home makes sure that your living space is clean and modern. It can also lead you to redesign that room you've always meant to. With self-storage facilities easily accessible, this become easy. You don't have to worry about creating a mess or tossing away your favorite stuff. You can keep it all away in Centron Self Storage facilities, where our active surveillance will make sure it is all safe.
York University students reorganizing their lives for the summer and 2013/2014 school year, we have special accommodations for you. Enjoy 25% off our already low rates over the summer.
Keep your home clean- you deserve it! Winter, we shall meet again.