On This Black Friday, Let Centron Storage Deal With Excess Baggage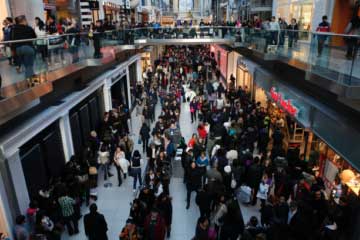 For the past few years, Black Friday blowouts and one-day-only sales have been steadily creeping across the border into Canada. Once only a post-American Thanksgiving spending spree, this year's Black Friday promises to drive thousands of Canadian shoppers mad with rock-bottom prices from Newfoundland to Victoria. Toronto's big box stores will no doubt see longer lines of camped out, deal-crazy shoppers than ever before. If this sounds like you, or someone you share a roof with, you know this means accumulating a whole bunch of stuff—and often stuff that you don't need, or you don't have the room for!
All your old things aren't ready for the trash, though—maybe you'll want to sell them on Kijiji or Craigslist; maybe you'll want to hold on to it all for a rainy day, or for parts. While you can certainly get a good deal on new products, Black Friday won't miraculously find you room in your home; you can't buy floor space at Future Shop, Best Buy, or Walmart! So if you have a shopaholic at home, or you need to find a spot for all the goods from last year's blowout, consider how one of our North York storage facilities could help you find some much needed space.
We've got room for all your electronics—flat- or wide-screen TVs, video game consoles, stereos, car speakers, entertainment centres—in our climate controlled, super-secure self-storage units. If you need boxes (of all shapes and sizes), don't worry about making another run to the mall—we've got everything you need. And no matter how valuable or expensive your things are, you can breathe a sigh of relief knowing that we've got all the best security systems in place: keycard access and motion detectors, surveillance equipment and security patrols, a brightly lit and fenced-in compound.
On the other hand, maybe you're not a super-sale consumer, but a small business owner prepping for a Black Friday sale yourself. If you've got extra stock and need somewhere to store it in the lead-up to your event, or you predict having a bit too much after November 28, we have a perfect location to safely store your things until you need them. Surplus inventory doesn't have to be sold off in a panic, and there's no need to start thinking about relocating—we're happy to protect your things for as long as necessary. Another great feature of our service is that you have your own lock and key, which means daily access to your things. It's no good to wait if you can make a sale, right?
Whether you're buying or selling this Black Friday, remember to keep us in mind for your storage needs. We understand the importance of product and inventory, so don't cram everything into a closet or lose your sales floor space to towering displays. Contact us at Centron Storage and let us take care of the rest!