How To Preserve The Timeless Beauty Of Classic Cars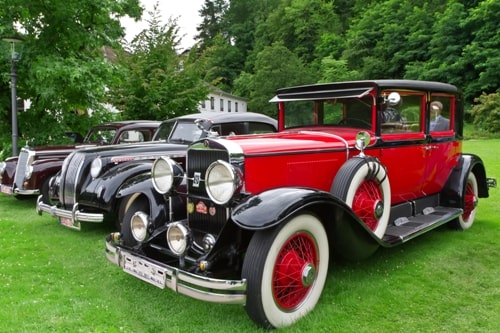 Classic Cars Are Forever. Or Are They?
You've seen them at car shows, at county fairs, in parades, and occasionally on the open road. Some of the vintage automobiles that are still with us rolled originally off a showroom floor maybe even a century ago. So what's the secret to the seeming immortality of these "senior citizen" vehicles? After all, we keep hearing about how much better the cars of today are in terms of construction, but they don't seem to age nearly as well. Is it possible that the older Buicks, Model A, and Corvair have Fountain of Youth lessons to teach the rest of us, humans and cars alike? (After all, that Ford Focus could one day celebrate its 35th birthday…) Actually, the answer is yes. There is much owners can do to keep their vintage autos with them for years to come.
Start By Ensuring Your Vintage Car's Future With Insurance
While this doesn't seem to outwardly have much to do with protecting and maintaining a antique auto, it's an important first step. Even cars officially designated as "antiques" require, by law, vehicle insurance if operated on the road. Such insurance also protects vehicle owners against theft and damage, including damage incurred while the vehicle is in storage. Many insurance companies offer special "antique" automobile insurance with varying rates, depending on how the vehicle is used.
Accept Substitutions
It is possible to still purchase parts for many types of classic cars, like the classic Ford Model A, which first rolled off assembly lines in 1903. Other vintage cars can be kept running with system conversions, which is actually necessary for legal and environmental reasons if you want to drive that vintage car on a regular basis. For older cars driven on a less regular basis, other modern products like waterless coolant can be used without making major alterations to vehicle systems.
Where The Car Calls Home Is Very Important
While there are many vintage autos that still get driven occasionally, for the most part, these vehicles spend much of their "golden years" off-road. Are those Tin Lizzies and GTOs sufficiently protected under a cloth in a corner of your backyard shed? The elements cause even brand new cars to depreciate in value very quickly, so antique cars should be stored in a sealed garage even in temperate climates. But there's more to successfully storing a vintage vehicle than a roof, door, and walls. These challenges range from tires to fluids to rodents. This is why many antique car collectors choose to have their vehicles professionally stored.
By using professional storage, owners are assured of climate controlled areas that are protected against theft, weather damage, and rodent and insect infestation. The ventilation and flooring of these storage areas allow for ongoing maintenance, and protect classic car bodies from dirt and rust accumulation as well. But it's important to protect your car by selecting a facility that can offer the best protection, which is why many in the North York area choose Centron Storage. Call us for a quote in North York at 416-739-0000, and learn how we can provide the right home for your vintage cars for years to come.