Get Ready for Autumn and Winter Fun:
Store Summer Toys and Furniture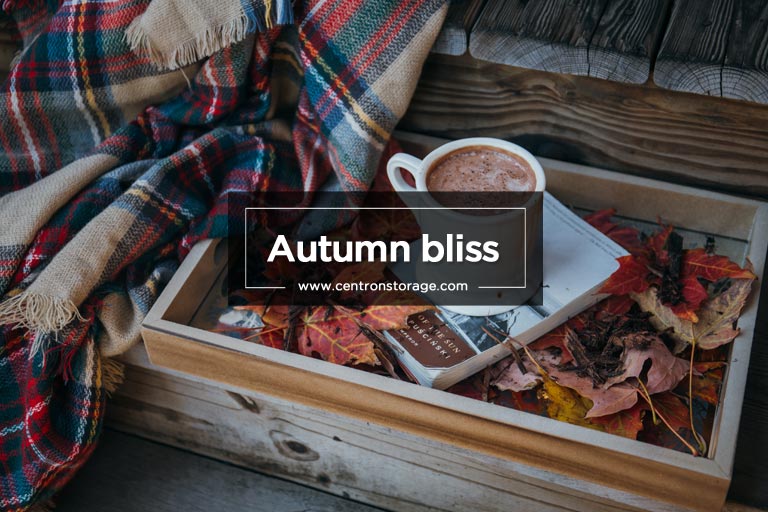 When we were young, the autumn felt like the beginning of a new year; school started again and the carefree days of summer came to an end. Even in adulthood, autumn continues to feel like a time for a re-set. It's a great time to put away summer toys into storage and prep for the winter. Summer may get a lot of love and songs written about it, but it's really the autumn that many people secretly love best. As the romantic poet John Donne said, "In Heaven, it is always autumn."
What's not to love about fall? The weather is either gorgeous or gorgeously stormy, the trees are trying on their new wardrobe in reds and golds and oranges, and it's time to say goodbye to all the summer fun. Camping gear, kayaks, paddle boards, patio furniture, and bikes that take up so much space – from condo storage units to suburban garages – must find a winter home.
In this two-part series of blogs we'll discuss the reasons we should prepare certain items for wintertime storage.
You could, of course, artfully display your paddle board on the wall above your bed, wedge your kayak into the corner of the dining area, or set up a guest room with your tent, but that would be silly. Worse, it would be a constant reminder that summer is over. Banishing the summer fun allows you to focus on other pursuits – jumping in leaf piles, hiking, and embracing the autumnal beauty.
Also, cluttering up your garage with items you won't need for nearly eight months seems like a colossal waste of precious space. Besides, you'll need that room for your leaf blower, rakes, leaf bags, your snowblower, skis, toboggans, shovels, skates, and that stinky, stinky hockey equipment. Now's the time to take those items out of your North York storage unit and replace them with summer stuff.
Prep Your Summer Gear for Storage
Before putting your furniture into storage (even a climate-controlled unit) it's best to clean the upholstery first. If your furniture has fabric covers, take them off and wash them. Scrub the furniture itself and leave it to dry completely. Once the covers are dry, put them back on the cushions and place all the soft furnishings into a heavy duty plastic bag. Use clear coverings so your cushions aren't mistaken for garbage!
Next, stack chairs (if possible), and wrap them in heavy-duty tarp. Cover the rest of the furniture in tarp and secure it. This will keep it in pristine condition for the spring when all you'll have to do is unwrap it, move it out of storage, and enjoy.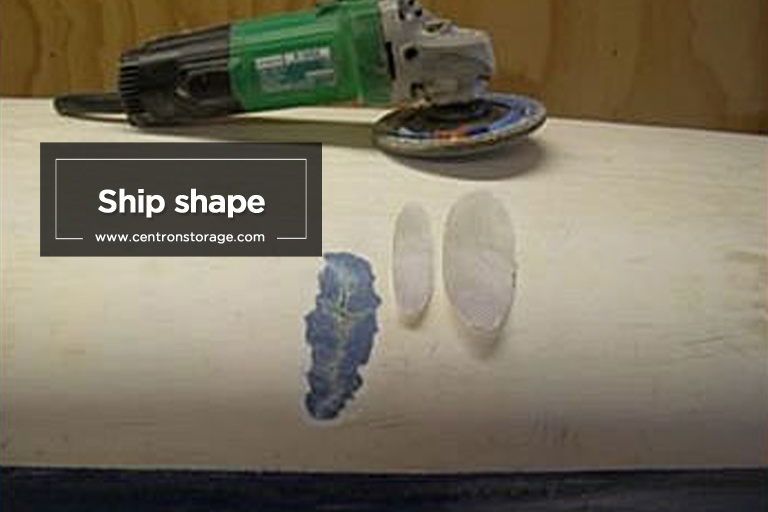 Credit: Maintenance | Q Kayaks
Paddle boards, kayaks, and canoes
This is a great time to give your small pleasure crafts a good cleaning and inspect them for any damage.
Start by washing your craft with hot, soapy water and then giving everything a once-over to check for damage or any needed repairs. Mark these areas with painters' tape.
You can polish out light scratches on fibreglass and kevlar canoes using an automotive paste cleaner and a light touch on a buffer. Be careful not to bear down too hard or you risk cutting into the furry kevlar below, which can't be sanded.
Store in a heated storage facility. This saves you the time you'd have to spend making sure your watercraft doesn't warp or get damaged from being stored in below-freezing temperatures.
It's a good idea to scrub down all your water toys (like boogie boards and other floaties) and let them dry thoroughly before placing into storage. This prevents mould growth and prolongs the lifespan of your equipment, saving you tons of cash that you'd have to spend on replacements.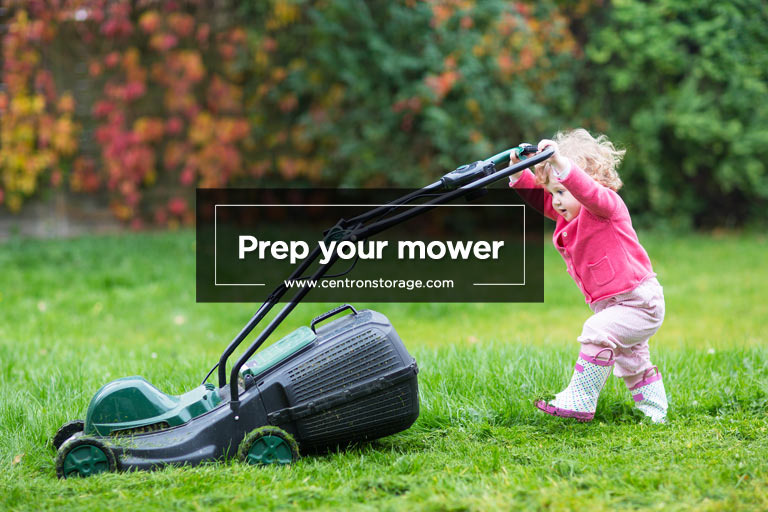 Gas lawn mowers likewise take up valuable space that may be needed for your snowblower eventually. Before storing your gas lawn mower, there are a few things you can do to not only ensure it's stored properly, but also so that it starts up in the spring with no problems.
To be safe, disconnect the spark plug before you proceed with any of the following:
Drain the oil
Remove the blade
Clean the undercarriage
Replace the spark plug: Even if the one you have is in good shape, a new spark plug is cheap and it's nice to start the summer off with a new set up
Change the air filter
Electric mowers are easier to deal with. Coil up the cord, clean the outside and flip it over, scraping out the inside. You may want to wrap it up in tarp as well, but if the plan is to put it in a secure, climate-controlled storage unit, it's not necessary.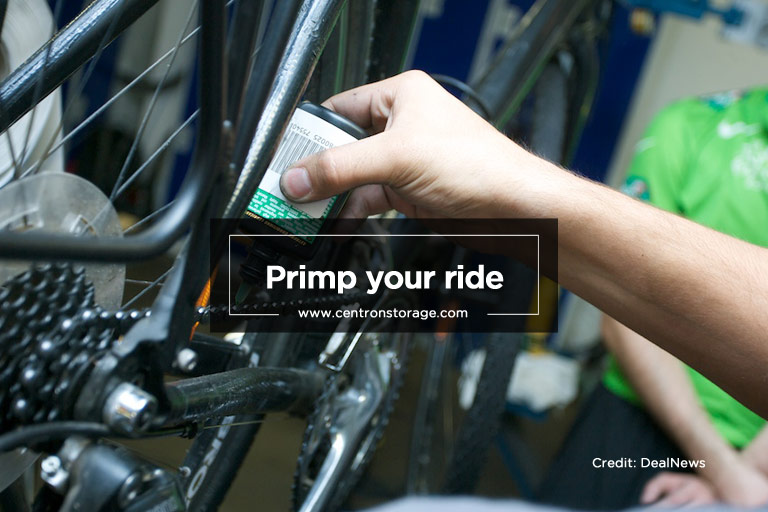 Bike shops are busiest in the spring; wait times for a tune up can sometimes be weeks. There is nothing sweeter than being able to ride on that first mild, snow-free day in April. The following tips will help:
Give your bike a thorough cleaning. Remove all accoutrements such as your water bottle, cyclometer, and lights, and put them into a box marked "bike gear."
Take your bike to your mechanic (unless you're handy that way) and get a full tune-up. In the autumn, this should be a day or two turn around.
Ensure that the tires are at maximum pressure when you store your bike. Although they'll deflate over the winter, this will help prevent flat spots or bulges from developing.
Even though you just had it tuned up, add extra lubrication to the gears and cables. Even if it's spending the winter in the climate-controlled comfort of Centron Self-storage, it won't be ridden for several months, and this will add an extra layer of protection.
You can see how a little planning ahead and even less elbow grease can achieve a lot. Not only will you create space in your home's storage areas for the fun things you'll need over the winter, you'll be totally ready for spring and summer. There'll be little to do except retrieve your safely stored furniture, boats, mower, and bikes from storage and get right into the swim of things.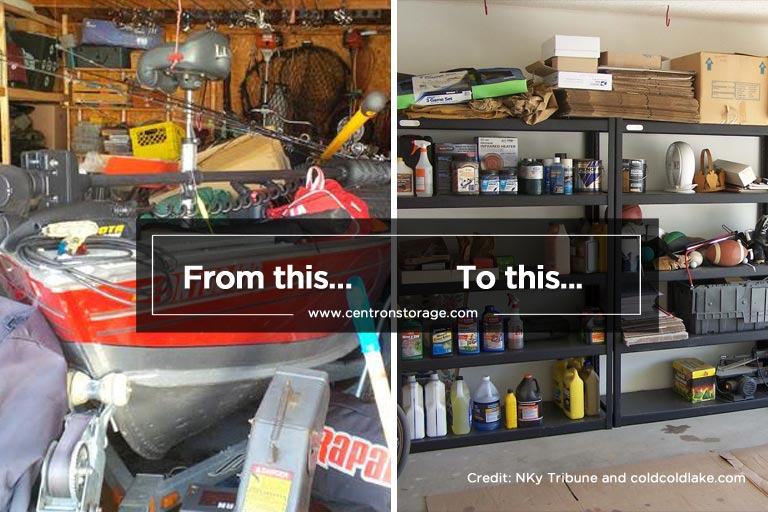 With over 30 years of experience and consistently high praise from our customers, Centron Self-Storage is the perfect solution for storing your summer stuff. Check out our storage calculator, book online and make things even easier! For storage in North York: (647) 557-7378.