Entertaining Over The Holidays? Give Your Guests The Gift Of A Clutter-Free Home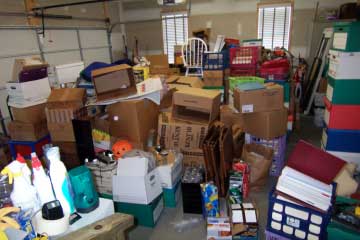 While growing up, maybe you never had to worry about prepping the home for visitors over the holidays—that was Mom and Dad's job, right? Or you all piled into the station wagon and made the annual voyage to Grandma and Grandpa's place to sample their famous turkey, cranberry sauce, and stuffing. Oh, the luxuries of being a guest! Today, it's your turn to host the holiday gathering—friends and relatives will be here before you know it, presents in hand and little elves in tow. Maybe this is the first time you'll be entertaining your parents or your in-laws, and you know the white gloves are coming out to inspect the premises and see if you keep a tight ship…
So whether you're a gourmet cook or a novice with the turkey baster, one thing's for sure: you're going to have to get the house tidy—nobody wants to stay in a messy, cluttered, crowded home. Aside from the usual mopping, vacuuming, and dusting you'll be doing, you might notice another problem: you've become a bit of a pack rat! There's hardly any floor space left for you and your family, let alone the added numbers you're expecting in December. A cluttered home is certainly not going to make a good impression on the scrupulous in-laws or the concerned parent. If only there was a solution!
Luckily, by coming to us here at Centron Self Storage—the easy answer to all your holiday-stowage needs—you can clear out excess baggage, furniture, or junk just in time for your guests' arrival! If all the furniture and miscellaneous stuff you've been keeping in that spare bedroom now needs to vamoose for incoming residents, we've got an appropriately sized storage unit that will let you take control of your living space and reclaim entire rooms! Our handy-dandy storage calculator will let you determine your square-footage needs by room and item, using categories—living room, nursery, dining room, sports/utility, audio/visual, and so forth—to discover what kind of unit will work best for you and prevent you from overpaying. But don't worry—even if you've got a ton of stuff, we've got a unit for you; we have rooms the size of single-car garages (up to 200 square feet!). If your closets are busting at the seams, we've got wardrobe boxes for hanging long garments; and if you've got heavy furniture to relocate, carts and dollies are always on hand to help you get things from your vehicle to your new unit.
To avoid repeating the cluttered experience at home, make sure that when you start filling up your unit, leave space around the perimeter (don't pile things up against the walls). Leave a walkway through your things so that you can reach the back of the room. And place things that you might need to retrieve easily near the front, just for the sake of convenience. Not that we need to say it, but you don't want to turn your storage unit into another cluttered pile-up. That way, once all the guests are gone and your holiday decorations are back in their boxes, you can come pick up your stuff and bring it all back home, stress free.
Be the superstar entertainer you need to be this holiday season, and de-clutter your home for parties, dinners, stopovers, and weeklong stays. Whatever your storage needs, we at North York Centron Storage will help you make your home a haven, so get in touch now to see what we have in store!