Calculate Your Self Storage Space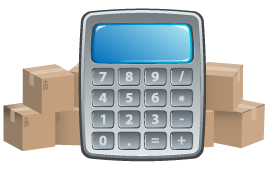 If you're thinking of using temporary self storage, you may wonder what size of unit you'll need and how you can make full use of your space in the most cost effective way. At Centron Storage, we offer flexible options to meet your unique needs in size, duration and even climate controlled units for special items. Here's a sample of three of our five available unit sizes, along with an approximation of how much they typically hold.
5' x 5'–This is our smallest unit size at approximately 200 cubic feet. But it packs a punch, enabling you to store about 5-10 boxes, or small furniture such as chairs or small dresser.
10' x 10'–This is a mid-sized unit that roughly resembles the size of an average bedroom. But remember that unlike a bedroom, you need minimal walking room inside, which means that this unit size can store the equivalent of the entire contents of a large one bedroom apartment. It's also a great size for major appliances and about 30-50 boxes. That's a lot of room for a great price.
10' x 20'–This is our largest unit, capable of storing a car, truck, or even a boat. With 1700 cubic feet of space, this is a comfortable option for the entire contents of a three or four bedroom house.
What to Do Next
Keep in mind that the larger your unit, the more you'll want to pack so that you have a bit of navigation space inside to reach items with ease. Visit our website and use our handy storage calculator to estimate the size of unit that's just right for your needs. Or call us today for an estimate. And don't forget to ask our staff or check our website for our latest promotions–just another way we provide our clients with the best value in town.