Baby Room Decor Ideas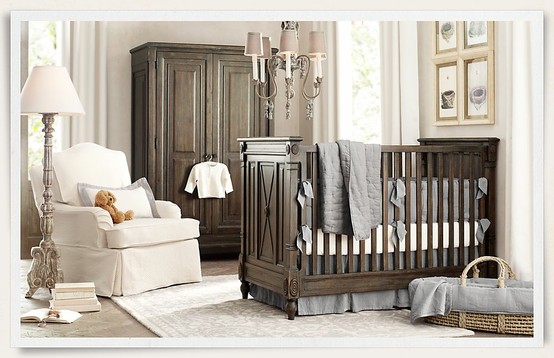 We have talked about how to create space for baby when the time comes. The question for you is now, do you even have the space for a separate baby room?  Centron Self Storage facilities in North York has great tips to help you prepare for baby but clearing out rooms, nooks, dens, man caves, and home offices for baby. Using a storage unit is a temporary or long-term necessities if you need to create space for your bundle of joy but don't want to give up items you may use one day in the future.
When thinking about the space in your home or apartment, and what type of North York self storage facility unit you may need, here are some home decor ideas you can use for the baby's room.
Restoration Hardware Baby & Child
What a beautiful room to bring up baby! Look at how the decor matches the light in the room. This is old style classic, beautiful, and unique! What would you have to put in self storage to create a beautiful room like this for baby?
Bright Baby Nursery
This baby nursery is gorgeous. All babies are gorgeous but this room is going to be for the cutest kid on the block. You will have to put a lot of things in self storage to achieve this look.
Decorative Baby Room
The chandelier may a bit much for the room but this room is for a home that has larger space to work with and you can be as versatile as possible. If you have a large home office or upstairs den, clear out the items and send to your Centron Self Storage unit in North York, there are two locations right in your neighborhood.
Baby Room Decor and Self Storage
You can be extremely flexible with creating space for your baby room, experiment with different types of decor that fit your personality and will uplift the baby. You may not have to move if you have the space but you can give up a room that can be turned into a baby room. Thus, get down to Centron Self Storage in North York and get your next quote.